< Back to Art Books
< Previous Next >
---
***
Willem de Kooning (1904-1997) is regarded as one of the 20th century's most important painters. In the 1940s and 50s he was a key figure in the Abstract Expressionism art movement in America together with Jackson Pollock, Franz Kline, Arshile Gorky, Mark Rothko, Hans Hofmann, Adolph Gottlieb, Robert Motherwell, Philip Guston and Clyfford Still.


Willem De Kooning by Harold Rosenberg

The renowned art critic and art historian Harold Rosenberg has met Willem de Kooning in New York around 1940 and became conversant with the theories of abstraction. Rosenberg's writing applied the advertising technique of pithy slogans in describing art movements. In 1952, he coined the term Action Painting for the Abstract Expressionist artists, introducing their art in a series of articles published in the periodical Art News, the leading modernist magazine at that time. He selected a single artist whom he believed embodied the acme of painting - in his case, it was the concept of action painting as manifested by de Kooning.
Excavation by Willem de Kooning
"Excavation", one of de Kooning's largest painting is my favorite. I have seen it in the Art Institute of Chicago and practiced what De Kooning himself said: "If you go from picture to picture you get all mixed up. So you say to yourself, 'What am I interested in?' and go look at that painting." I was interested in "Excavation" so I looked at it for half a day. This is what the museum catalog has to say about this painting:
It exemplifies the artist's innovative style of expressive brushwork and distinctive organization of space into loose, sliding planes with open contours. According to de Kooning, his point of departure was an image of women working in a rice field from Bitter Rice, a 1949 Italian Neorealist film. The mobile structure of hooked, calligraphic lines defines anatomical parts - bird and fish shapes, human noses, eyes, teeth, necks, and jaws -revealing the particular tension between abstraction and figuration that is inherent in de Kooning's work. Aptly titled, the composition reflects his technically masterful painting process: an intensive building up of the surface and scraping down of its paint layers, often for months, until the desired effect was achieved.
וילם דה קונינג, שהיה בין הציירים הפוריים ביותר של האקספרסיוניזם המופשט אמר: (באנגלית זה נשמע יותר טוב) "אני יכול לעבוד על ציור חודש אבל זה צריך להיראות כאילו ציירתי אותו בדקה". קל להגיד. כשהתבוננתי בציור שלמעלה Excavation ("חפירה") הרגשתי שדה קוניג חרש את הציור הזה הרבה יותר מדקה, הרבה יותר מחודש, הרבה יותר. לדעתי הוא ממשיך לחפור ולחשוף את הדמויות שבתוך המרקם המופשט עד היום, גם אחרי שהציור נתלה על קיר המוזיאון. דה קוניג התפרסם במיוחד בסדרות ציורי הנשים השערורייתים שלו, אז כדאי שתכירו את אשתו איליין - (Elaine de Kooning) שהייתה ציירת מצוינת בזכות עצמה. כך זה נראה אצלם בסטודיו: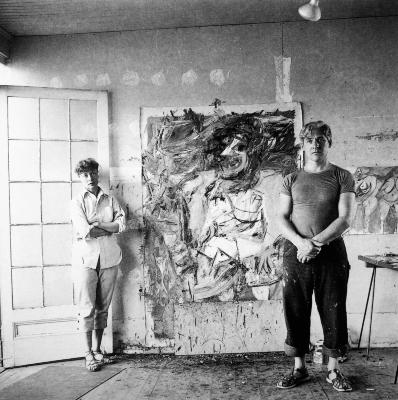 Willem & Elaine de Kooning
This is the definitive collectible monograph on Willem De Kooning's life and paintings, a massive retrospective, with over 200 illustrations (65 in color) of the artist's paintings, with an interview with De Kooning and two essays written by the artist - a real collectible piece.
בערוב ימיו אובחן וילם דה קונינג כלוקה במחלת האלצהיימר.למרות זאת, הציורים שצייר בעשור האחרון לחייו 1990-1980 בתקופת מחלתו - למעלה מ 300 ציורים בסגנון מופשט, בדים גדולים 2 על 2 מטר - נחשבים בין העבודות הטובות והרגישות שנוצרו בתקופה המודרנית. קונינג, למרות מגבלותיו הקוגניטיביות, (הוא לקה באי-התמצאות במרחב, נטה ללכת לאיבוד ברחוב, לשכוח שמות של אנשים ואירועים שאירעו לאחרונה, התבלבל בהבחנה בין אשתו לאחותו ואף לא היה מסוגל לחתום את שמו) עדיין היה מסוגל להתרכז מול כן הציור, ועבודותיו שימרו בצורה מזוקקת ובשלה את סגנונו המיוחד וחדשנותו האמנותית.

Hardcover: 296 pages, 226 illustrations, 65 illustration in color
Publisher: Harry N Abrams; 1st illustrated edition (1974)
Language: English
ISBN-10: 0810901234 / 0-810-90123-4
ISBN-13: 9780810901230
Price: Call
References:
Willem de Kooning in XXe Siecle Nouvelle Serie - PANORAMA
Artworks and Packages - Harold Rosenberg
The New York school: abstract expressionism in the 40s and 50s - by Maurice Tuchman
Abstract Expressionism: The Triumph of American Painting - Irving Sandler
Mark Rothko 1903 - 1970 The Tate Gallery - Irving Sandler
Item:
B1009 - De Kooning by Rosenberg
© Dan Levy - Art Pane Home of Art Books
---
< Back to Art Books
< Previous Next >