< Back to Art Books
< Previous Next >
---
אביגדור אריכא - 6 איורים לסמואל בקט - אלבום ממוספר וחתום
*
Avigdor Arikha (1929-2010) was born in Romania. At the beginning of the Second World War he was deported with his family to several concentration and forced-labor camps where he lost both parents. In 1944 at the age of 15, he immigrated to Israel and spent a few years in Kibbutz Ma'ale HaHamisha. In 1949, after being severely wounded during the Israeli War of Independence, he went to Paris to study at the Ecole des Beaux-Arts. The move to Paris was not intended to be permanent, but Arikha ended up spending the rest of his life there.


L'issue: Six Original Etchings by Avigdor Arikha

Avigdor Arikha - L'issue: Six Gravures Originales de Arikha - Illustrations for Samuel Beckett
Arikha met Samuel Beckett in 1956 in Paris and the two outsiders and foreigners became close friends. This an intimate long-standing friendship which lasted till Beckett's death on 1989. Beckett had a formative influence on Arikha's development "He inspired me for my entire life in all respects" said Arikha. This influence can be traced through the several series of illustrations he prepared for Beckett's texts between the years 1958 and 1973 which were done at Beckett's instigation.

L'Issue published in 1968, with Arikha's 6 masterpieces deep engravings, is one of the most interesting and mysterious artist's books (livre d'artist) which resulted from the close and inner dialogue between Beckett and Arikha.
Beckett's fragmented prose for this artist's book was based on a passage from Le Depeupleur (third and fourth paragraphs with some variants) which was at that time a "work in progress" on Beckett's table, later translated to English and published under the name The Lost Ones. Arikha embedded Beckett's text and prepared 6 beautiful enigmatic aquatint engravings, dark and moody in feeling, which beautifully convey the somber outlook of Beckett's vision of the void reflected from the text.
The mode of etching, with its dominant deep blacks and grays, glimmers of color and the absorbing heavy paper used for print, transmits pressure and tension together with glimpses of humor as well as vital insobriety - these engravings are Arikha's last abstract works and his only abstract illustrations for Beckett. "To make the emotion of a poet visible is a process parallel to the illustrator moved by the poet" said Arikha.
Arikha's signature in English and Hebrew on the right bottom of each of the aquatint engravings.

חשיבות המילים, העולה לאין שיעור על חשיבות העלילה, ביצירתו של סמואל בקט, הופכת את עבודתו של הצייר המאייר לאתגר שאין שני לו. אביגדור אריכא, שהיה ידיד נפש קרוב של סמואל בקט, הוא קרוב לוודאי האמן היחיד שהצליח לבטא את מה שאי אפשר לבטא או כמאמרו של בקט בתרגום חופשי: "הביטוי שאין מה לבטא, אין במה לבטא, אין מהיכן לבטא, אין כוח לבטא, אין רצון לבטא, ויחד עם זאת יש את החובה לבטא". ובמקור:
"The expression that there is nothing to express, nothing with which to express, nothing from which to express, no power to express, no desire to express, together with the obligation to express."

הקרבה הנפשית העמוקה בין השניים, שנמשכה עשרות שנים, עד למותו של בקט ב-1989, הפכה את אריכא למפרש הויזואלי האולטימטיבי של בקט - אריכא הטמיע את תפיסת עולמו של בקט וביטא את השבר שכונן בקט בתפיסת המציאות של כולנו. ששת הדפסי האקווטינט שהכין אריכא לטקסט הקומפקטי של בקט באלבום שלפניכם, משקפים בצורה מושלמת את רוחו של האמן - מסתוריים, קודרים, סוערים, מתוחים ובו זמנית דוקרים בנצנוץ אירוני ושואף חיים.
יש לך חבר טוב שכזה היום ?
שאלה ליסה פרץ את אריכא בראיון משנת 2009
לא ולא. חוץ מזה, אחרי בקט, אין כלום. זה כמו להגיע אל האוורסט ולהישאר שם. הוא חסר לי נורא. הוא מבקר אותי ללא הפסקה בחלומותי.
ענה אריכא .
מהדורת האמן של L'issue הודפסה ב-1968 בדפוס Georges Visat, Paris ב-154 עותקים וכוללת 29 עמודי נייר איכותי Rives BFK נפרדים המשלבים את הטקסט של בקט עם 6 הדפסים מקוריים של אביגדור אריכא - כל הדפס חתום בעיפרון, באנגלית ובעברית, על ידי האמן. העמודים נתונים במארז קופסא slipcase מצופה בד חום.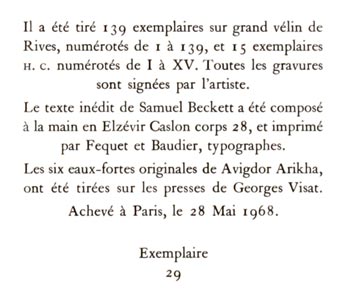 Softbound: 28 pages; 6 original colored aquatint etchings on Grand Velin de Rives paper by Avigdor Arikha - each print is signed in pencil by the artist; the unbound leaves laid into cream wrappers and contained in a brown cloth slipcase lettered in white.
Publisher: Les Editions, Georges Visat, Paris (1968); First Limited Edition; Copy number 29 from an edition of 139 copies with additional 15 hors commerce exemplars.
Language: French - text by Samuel Beckett.
Price: Call
References:
Illustrating Samuel Becket - The Issue of the Supererogatory - Judith Wechsler
Plays and Books by Samuel Beckett
Yosl Bergner - Drawings to Franz Kafka - Signed and Inscribed Artist's Book
Lithographs by Nahoum Cohen on ECOLOGY - a Poem by Meir Wieseltier
Item: B1013 - Avigdor Arikha Engravings to Beckett
© Dan Levy - Art Pane Home of Art Books
---
< Back to Art Books
< Previous Next >