< Back to Paintings
< Previous Next >
---
דוד הנדלר - רישום אקוורל ודיו - סוסים ועגלה
סבתא שלי אהבה סוסים - עוד מחוץ לארץ. האלבומים שלה היו מלאים בתמונות של ילדה זערורית עם צמות על גבי סוס שועט. כהגיעו לארץ החיים השתנו, סוסי המירוץ של אירופה הפכו לסוסי משא ובעלי העגלות של תל-אביב החליפו את הפרשים הבוהמים האמיצים. אבל האהבה נשארה. סבתא שלי גם הכירה את הצייר דוד הנדלר (1904-1984). בעצם מי לא הכיר את הנדלר בתל-אביב הקטנה של שנות ה40-30, נמוך קומה, ברט שחור, מבט מוזר, פוזל? נודד מבית לבית, מוכר ציורים מדלת לדלת. אמא שלי משחזרת שיחות בין הנדלר לסבתא: "זה לא סוס, דוד" (סבתא תמיד הקפידה לציין את שמו בסוף כל משפט) "זה חמור". או: "ככה לא נראית רגל, דוד, תראה, זה עוד רטוב - למה הכל מהר מהר?" ודוד היה עונה מה שעונה באידיש (שאמא לא הבינה) מסיים את התה והעוגה, מחזיר את הציורים לתיק, נאנח וממשיך לדרכו. ואז הגיע הרגע הקוסמי. זה היה ביום שישי אחד, הנדלר הופיע עם התיק, אמר לסבתא "יש לי משהו שתאהבי" והוציא את האקוורל הזה: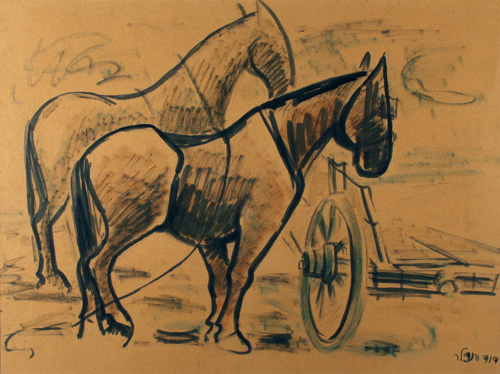 Horses and Wagon by David Hendler

הוא צדק.
Even today, although more and more rarely, you can sometimes see on the streets of Tel-Aviv, a cart or a carriage harnessed to horse. In my youth this was a common sight. These carts didn't carry any tourists or sightseers, and were not decorated in any way. These were very plain wagons, sometimes owned by peddlers who circulated the town and offered their merchandise from door to door, much in the same way as the painter David Hendler himself sold his drawings (he was on foot of course). It is amazing how this means of transportation fitted this task. The natural pace in which a horse walks leaves enough time for the peddler to announce his presence and his business, and for his potential customers to get the message and take a calculated decision concerning their needs and wishes.
Hendler's beautiful and focused drawing revives many memories: the delicious watermelons of the summer which we used to buy from the watermelon cart, the drumming sound of the horseshoes on the asphalt, a small but rather fierce looking young boy accompanying his father on his round and is already allowed to hold the reins and drive the wagon and the special words used to command the horses and their silent obedience.
Biography of the painter David Hendler - ביוגרפיה של הצייר דוד הנדלר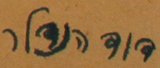 David Hendler "דוד הנדלר" signature in Hebrew on the right-bottom of the aquarelle water color painting.
את האקוורל הזה של דוד הנדלר צריך לבחון מקרוב. ראשית הרישום בעפרון שמתחת לצבעי המיים - המתווה המדוייק והקומפוזיציה המושלמת של הסוסים והעגלה. אחר כך היד הקלה של האמן שמחליטה במשיכת מכחול רצופה היכן להדגיש, היכן לרפרף והיכן לוותר כמו למשל בפרסה הימנית של הסוס הקדמי. אתם מוזמנים.
Size of painting (without frame): 2' 1.2" x 1' 6.9" - 64 cm x 48 cm - 25.2 in x 18.9 in
Type of frame: Wood - the drawing is under glass, framed in a passe-partout
Painting technique: Pencil and watercolor on paper
Origin: Israel
Date: 1936
Signature: "דוד הנדלר" - signed in Hebrew by the artist on the right-bottom of the painting.
Price: Call
References:
"A Woman with a Baby" - Aviva Uri by David Hendler - Pencil on Paper
"A Portrait of a Woman" - Aviva Uri by David Hendler - Charcoal on Paper
Biography of David Hendler - a great Israeli Painter and Drawer
Item:
P1015/PAI077 - David Hendler Aquarelle Horses
© Dan Levy - Art Pane Home of Original Israeli Paintings and Sculptures
---
< Back to Paintings
< Previous Next >