< Back to Paintings
< Previous Next >
---
ישראל פלדי - גואש ואקריליק - אם ובת
The essence of Israel Paldi's (1892-1979) work came to him from deep observation of children's drawings; he never imitated them but rather borrowed the inspiration hidden in them. It was not the anecdotal side in his painting that interested him, but the discovery of a splinter from the dream world, hidden in the recesses of the sub-conscious. Paldi delved into the depths of his soul, down to the secret memories of his childhood, and found for himself and for us a magic world, enchanted and full of humor.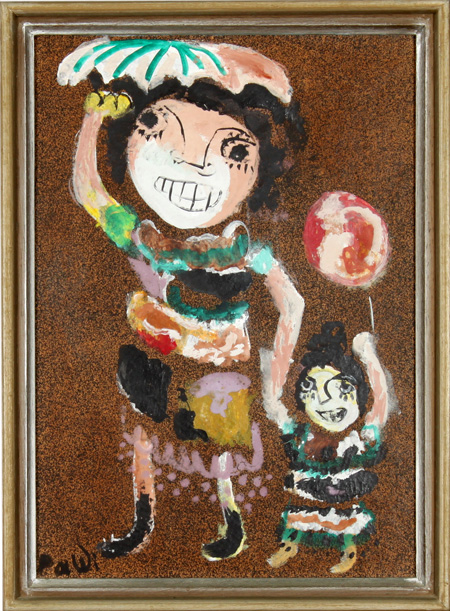 Gouache and Acrylic Painting by Israel Paldi - Mother and Daughter

Israel Paldi - Gouache and Acrylic Painting - Mother and Daughter
Look at this joyful couple, of mother and daughter. They seem as if they are on their way to spend a nice sunny morning out of doors - in the park or perhaps window shopping in a fashionable street. This is the first impression, but then you notice that the background is actually neutral, and doesn't hint on any real location nor time of day for this scene.
Paldi achieves this effect by the use of the technical paper which provides a sort of readymade, uniform looking, background color. It gives the painting the atmosphere of a photo taken in a studio. The photographer is directing the couple. He places a screen behind them. He gives them instructions on how to pose and smile in front of his camera. He hands them the umbrella and the red balloon which will be put aside the minute he decides that he has created the desired scene and caught it on celluloid. Instead of being a truly spontaneous moment, it may be of the opposite nature.
Israel Paldi signature in English on the bottom left corner of the painting
הצייר ישראל פלדי (1892-1979) נטל לעצמו את החופש לצייר כלבבו, משוחרר מכל תיאוריה ומכל השתעבדות לזרם או תנועה כלשהי. הציור היה בשבילו לא רק מקצוע או אמצעי קיום, כי אם גם מקור לחדוות עשייה שיש בה לא מעט מן ההנאה שבמישחק - פלדי משחק עם יצירי דמיונו ומעורר גם בו וגם בנו הנאה ממישחק זה.
Biography of the painter Israel Paldi - ביוגרפיה של הצייר ישראל פלדי
קחו לדוגמא את הזוג העליז והצחקני הזה - לכאורה נראה שהדמויות המוזרות שפלדי מצייר אינן קיימות במציאות ושהן פרי דמיונו הצרוף של האמן, אך משהו בדרך שבה הן רוטטות חיים בצבעוניותן והעליצות הערמומית שעל פניהן מעוררים בצופה את הרגשה שלמרות הדוק הסוריאליסטי, דמויות אלו לקוחות בהחלט מן המציאות ואפילו מן המציאות הקרובה של הצייר. אמא ובת? סצינה מבוימת? חשיפת השיניים המתואמת והמופרזת מעלה על הדעת את האפשרות של העמדה באולפן ואת נוכחותו של צלם נסתר הנותן הוראה להביט למצלמה ולחייך. השתיים ממלאות את ההוראה בצייתנות יתרה והתוצאה גרוטסקית. מי הצלם?
פלדי, שבדרך כלל לא נהג להעניק שמות לציוריו, כינה, בחוגים קרובים, את הציור הזה "המשפחה שלי". לכאורה האם עם המטריה מובילה את הילדה עם הבלון, אבל פלדי החליף את התפקידים - לדמות הגדולה מבין השתיים הוא העניק פרצוף רחב וחיוך בפה פעור שמרחיב אותו עוד יותר ומשווה לו מראה ילדותי תינוקי. והקטנה עם הבלון? קלסתר פניה מזכיר לי, כמעט כנגד רצוני, את קלסתר פניה של מרים אשת הצייר.

Size of painting (without frame): 8.7" x 1' 0.2" - 22 cm x 31 cm - 8.7 in x 12.2 in
Type of frame: Wood
Painting technique: Gouache and acrylic painting
Origin: Israel
Date: 1967
Signature: "Paldi" signed by the artist on the bottom-left corner of the painting.
Price: Call
References:
Biography of Israel Paldi - An Exceptional Artist

Item:
P1030/PAI071 - Israel Paldi - Gouache and Acrylic Painting - My Family
© Dan Levy - Art Pane Home of Original Paintings and Sculptures
---
< Back to Paintings
< Previous Next >