< Back to Art Books
< Previous Next >
---
***
The German photographer Erwin Fieger works exclusively in color, which helps explain his taste for the brilliantly exotic. Fieger was born in Czech in 1928, emigrated to Germany at the age of 16 and studied graphic arts in the city of Stuttgart. He started his photography career as a professional sports photographer at the early 60's and covered several Olympic Games: Sapporo, Innsbruck and Munich. He also contributed to magazines such as Life, Realites, Queen and Town and Twen.
Fieger photos of travel and cities best represent his personal interpretation of color and crown him as one of the greatest contemporary photographers. 13 Photo-Essays is a large coffee-table retrospective art book from 1969 which includes a series of beautiful bold color photo essays. Amazing.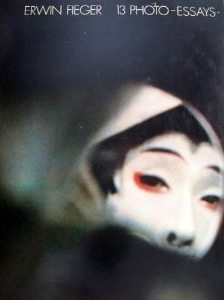 Erwin Fieger - 13 Photo Essays
ארווין פייגר - מטובי הצלמים של המאה ה-20 ומחלוצי הצילום הצבעוני באירופה. מקצוען אמיתי שהפיק צילומי צבע מרהיבים באיכות יוצאת דופן תוך שימוש במצלמות פשוטות יחסית כמו לייקה קטנה ולייקה-פלקס ובטכנולוגיות פילם של פעם. למבינים - פרשנות אישית של השימוש בצבע בצילום.
Text in German, French and English.
Chapters include Young New York, Carnival in Rio, Africa - Colors along the Road, Seven Years after the Revolution, Across the Galata Bridge, Along the Ancient Road From Cairo to Hong Kong, Antagonistic India, Monsoon Celebration in Jaipur, Magnet Japan, Sumo Wrestlers, The Kabuki Theatre, Alan Ginsberg "Flowers, Flowers..." and European Accents.
Hardcover: 235 pages
Publisher: Accidentia Druck-Und Verlags Dusseldorf; 1st edition (1 Jan 1969)
Language: German, French and English - with a preface by Helmut Gernsheim.
ASIN: B0000BQYY1
Price: Call
Item: B1002 - Erwin Fieger 13 Photo Essays
© Dan Levy - Art Pane Home of Art Books
---