< Back to Art Books
< Previous Next >
---
***
The Photography magazine published in the 60's and the 70's by Fountain Press Ltd., was one of the most important monthly publications which displayed the fruits of what is known as the "golden decades of photography". The beautiful annual album Photography Yearbook 1968 edited by Richard Gee & John Sanders, presents a dazzling collection of the pictures published in 1967 and brings us a brilliant panorama of outstanding photographic achievements of a range of international photographers responding to those tumultuous times from the inside of their own social spheres.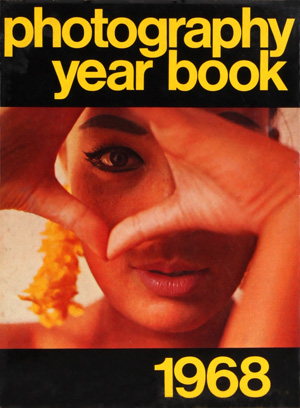 Photography Year Book 1968 - Edited by Richard Gee & John Sander

Front cover of Photography Year Book 1968 - a picture of the Italian actress Seyna Seyn by Manfredi Bellati
In an exciting preface to the book, the editors, John Sanders and Richard Gee, explain how difficult was the task of selecting the final 202 pictures which are presented in the annual and by what standards had they judged the photos:
...at this stage, any words of explanation must necessarily be superfluous since, if the pictures do not speak for themselves, they have no right to be between these covers. Yet, with thousands upon thousands of entries to sift through, we obviously had to start somewhere and our first consideration - rightly or wrongly - had to be personal immediate response. Something about the picture had to evoke a reaction from us, virtually at first glance, or it was put aside as a reject or a doubtful. The latter pile did receive a careful second examination and several prints from it, in fact, found their way into the Year Book. But every picture should tell a story and we were looking for those told most clearly and unequivocally, even if (without wishing to sound ambiguous) the theme remained an enigma. In this respect, technical considerations took second place. Many entries were technically perfect in the sense of being pin-sharp and grain-free and yet, lacking coherence, were put aside.


Photography Year Book 1968 - Photos by J. E. Rackham & J. B. Tresman

Photography Year Book 1968: 'Instant humour' by J. E. Rackham on the left - A newspaper seller by J. B. Tresman on the right
פיתוח מצלמת רפלקס בעלת עדשה אחת Single-Lens Reflex הוא ללא ספק אחד מהגורמים החשובים לפריחה הגדולה באמנות הצילום של שנות ה-60 של המאה ה-20. הנוחיות שבהפעלת מצלמות ה-SLR והדרך הקלה שבה ניתן להחליף ולהשתמש במספר עדשות בעלות אורך מוקד שונה, פתחו בפני צלמים מקצוענים וחובבים עולם חדש של אפשרויות יצירתיות שהיו מעבר ליכולותיהן של המצלמות מן הדורות הקודמים. הצבע, השיפורים באיכות התמונות והתחרות המבורכת בין היצרנים שהביאה להורדה דרמטית במחירי הציוד, איפשרו, אפילו לצלמים מתחילים, להשתחרר מן החששות הטכנולוגיים ולהתרכז בהנאה שבצילום תוך ידיעה שהאתגר שלפניהם מוגבל רק ביכולתם היצירתית ובראייתם האמנותית.
ספר הצילום השנתי של Photography Year Book 1968 של הוצאת Fountain Press הבריטית המוצג כאן לפניכם, מייצג באופן המצויין ביותר את המהפכה שעבר עולם הצילום בשלהי שנות השישים. מבין 20,000 הצילומים שנשלחו למערכת ירחון הצילום Photography ב-1967, נבחרו בקפידה 202 צילומים לתצוגה בספר ומתוכם, גדול הוא חלקם של הצלמים החובבים. העורכים העדיפו לאפשר ביטוי רחב ככל האפשר של תיקי הצילום המרתקים שהתקבלו ולהמנע מהעדפה וקידום של צלמים "כוכבים" ומפורסמים ואכן, במרבית המקרים, לא ניתן להבדיל בין תמונה שצילם חובב לתמונה שצילם מקצוען.
Since the collection was not intended for an exhibition but for a book where the reader is confronted by a series of double-spreads, each isolated by the necessity of having to turn the page, the editors chose an interesting approach for displaying the works - individual groups or pairs of photos had to relate and complement each other. Some pairings presented no difficulty, almost "begged" to be mated. In other cases the editors found themselves, in the words of Oscar Wilde, able to resist everything except the temptation!.


Photography Year Book 1968 - Edited by Richard Gee & John Sander

Photography Year Book 1968: At the dog-show by Shirley Baker on the left - 'Is there a message' by Beverley Goodway on the right
The contents of the book includes several editorial articles: Photography in 1868 by Edgar Yoxall Jones, Concorde by Arthur Gibson, Op-Art-Nude by Zdenek Virt, The Man From Keystone by the Keystone Press Agency, Old School Team by Claude Perez and Manfred Ehrich, Padre Greggio by Mario de Biasi, G.I.S in Germany by Bud Lee, Some Heroes of Our Time by Allan Ballard, High Fashion by Charlotte March and Master of Colour by Art Kane. It also includes many notes of technical data and, of course, 202 plates of the world's greatest photographers for 1967-68.
Hardcover: 245 pages with many color and black-and-white half-tone plates
Publisher: Fountain Press Ltd. London; 1st edition (1967)
Language: English.
Price: Call
Item: B1050 - Photography Year Book 1968
© Dan Levy - Art Pane Home of Art Books
---