< Back to Art Books
< Previous Next >
---
Hundertwasser: Regentag Rainy Day Jour de pluie
Friedrich Stowasser: 1943-1949 (Stowasser 1943 Bis Hundertwasser 1974)
Hundertwasser: 10 October 1973 Aberbach Fine Art 988 Madison Ave New York
Hundertwasser: 1973 New Zealand
Hundertwasser: Der Weg zu Dir
Hundertwasser Friedensreich Regentag: Haus der Kunst 1975 Munchen
***
Regentag ("Rainy Day") is the name of the ship that Friedensriech Hundertwasser (1928 -2000) converted for himself from an old cargo cutter into a seaworthy sailing vessel, and which has become his home, his studio and his sanctuary - and what is a great deal more: a manifestation of his personality.
Hundertwasser: Regentag - Rainy Day - Jour de pluie
Manfred Bockelmann, himself a painter and a photographer, accompanied Hundertwasser on his ship's maiden voyage, and has used the photographs taken on this trip together with Hundertwasser's own pictures, and aerial photographs introducing the contrastive element of naturally created forms to produce a book that tells us about Hundertwasser more than any art monograph.
In this wonderful album, the painter's work is seen in the context of its creation and is related to the artist's surroundings and to the scenic and natural forms that were always the basis of Hundertwasser's pictures. Photographic superimpositions and fade-ins lend the work transparency in the literal sense of the term. Bocklemann used the technical possibilities of photography for a visual demonstration of the identity of the artist and his work and succeeded to condense the transient visual experience into pictures conveying an atmosphere of great charm which produced a most original and expressive documentation of Hundertwasser's powerful art. Welcome on board.
פרידנסרייך הונדרטוואסר היה אחד היוצרים היותר מרתקים בתחום הציור והאדריכלות. הונדרטוואסר נולד בווינה למשפחה יהודית. שמו המקורי היה פרידריך סטוואסר (Friedrich Stowasser); סטו בצ'כית פירושו "מאה", ובהתאם לזאת שינה קידומת זו ב-1949 להונדרט, "מאה" בגרמנית, ואת שמו הפרטי שינה לפרידנסרייך, "ממלכת השלום" או, בתרגום חלופי, "בעל שלווה רבה". בנוסף נהג לכנות את עצמו Regentag (יום גשום) ו-Dunkelbunt (צבעוני חשוך), וכן היאקו-סוי (Hyaku-Sui), תרגום שמו ליפנית. Regentag היה גם שמה של ספינתו האישית, אותה בנה בעצמו ובה הרבה להפליג. האלבום המופלא שלפנינו מתעד את הפלגת הבכורה של Regentag ואת אישיותו המיוחדת ששופעת תמימות ילדותית כמו גם פרובוקטיביות אגוצנטרית. הפלגה נעימה.
Hardcover: 88 pages; illustrated with photographs and more than 20 colored works of Hundertwasser
Publisher: Bruckmann Munich; First edition (1972)
Language: German, French and English.
ISBN-10: 3765414697
ISBN-13: 9783765414695
Price: Call
***
This beautiful small-format art album was published right after Hundertwasser's exhibition Stowasser 1943 Bis Hundertwasser 1974 which was shown at the Albertina State Collection of Graphic Art in Vienna on 1974. The album presents Hundertwasser's entire juvenile oeuvre between the age of 15 and 21 year old (in 1949 he abandoned his birth name Friedrich Stowasser, adopted a new name - Friedensriech Hundertwasser, and began to sign his art as Hundertwasser instead of Stowasser).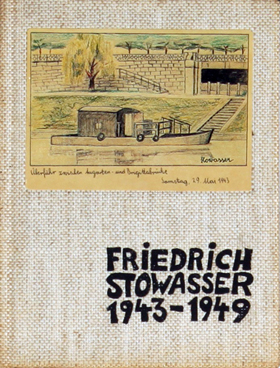 Friedrich Stowasser: 1943-1949
The album includes more than 60 colored reproductions of the artist's works from that period as well as texts taken from the artist's corresponding diary entries and relevant photos. The following pencil and aquarelle painting dated 1949 "Micheline, Rene Bro, Bernard - The Cathedral and Tower of Siena" on the back cover of the album best indicates Hundertwasser's future independent and unique artistic direction and style.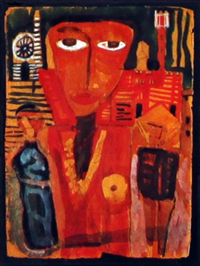 The Cathedral and Tower of Siena by Hundertwasser
האלבום המופלא הזה מציג ומתעד את עבודותיו של פרידריך סטוואסר (Friedrich Stowasser) הצעיר מגיל 15 ועד 21. בתמונת האקוורל הלוהטת שמעל, צייר את חבריו על רקע הקתדרלה של סיינה. אלה היו הניצנים הראשונים של הכיוון הייחודי שאליו פנתה דרכו האמנותית של הונדרטוואסר.
Hardcover: 213 pages, 60 full color plates
Publisher: Gruener Janura AG, Glarus, Schweiz, Limited edition 1-25000 (1974)
Language: German; 3 introductions by Dr. W. Koschatzky, Ernst Fuchs and Erich Brauer
ASIN: B001X5S65C.
Price: Call
***
The name of the painting on the front cover of this unique small album is "European Twirling His Moustache" - a watercolor on package paper dated 1951. This comic painting, like most of the colorful magnificent pictures in this album, is part of the Joachim Jean Aberbach Collection.
Hundertwasser: 10 October 1973
Joachim Jean Aberbach and his brother Julian were colorful characters on their own. They made their fortune in the music publishing business and became art collectors and dealers. "Yesterday: His Collector, Today: His Dealer" is how Joachim Jean Aberbach presents his relationship with Friedensriech Hundertwasser in the introduction to the book. All paintings in this album were shown in the first retrospective exhibition of Hundertwasser which took place in the Aberbach Fine Art Gallery in New York on fall 1973 which covers the works of Hundertwasser in the years 1951 - 1973. Jean Aberbach also promoted the publishing of this fine art book. A portrait of "Mister Aber Im Bach" closes this beautiful album.
אלבום מרהיב זה מציג את עבודותיו של הונדרטוואסר בין השנים 1951 עד 1973. רוב התמונות הן מאוספם הפרטי של יואכים ג'אן אברבך ואחיו ג'וליאן שארחו את התערוכה הרטרוספקטיבית בגלריה שלהם The Aberbach Fine Art Gallery בניו-יורק ב-1973.
Hardcover: 77 pages, 30 full color plates
Publisher: Gruener Janura AG, Glarus, Schweiz, First edition 1-25000 (1973)
Language: English; Introduction by Joachim Jean Aberbach; Text by Richard Teller Hirsch, Auckland City Art Gallery

ASIN: B002C2B4HW
Price: Call
This small book was published before the exhibition of Friedensreich Hundertwasser in New Zealand and Australia in 1973 and served as a full catalogue of the exhibition. Hundertwasser was in the South Pacific as guest of honor of the City of Auckland and the City of Auckland Art Gallery to open their Festival of the Arts.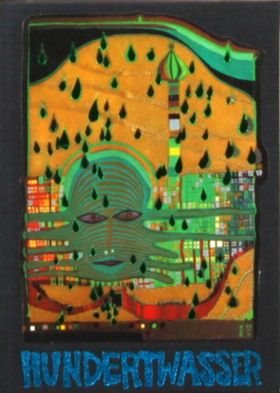 Hundertwasser: 1973 New Zealand
The introduction was written by Richard Teller Hirsch who was the director of the Auckland City Art Gallery at that time. The book consists of 24 full page color illustrations with quotes taken from various sources. It also includes 20 pages of essays on the artist, a list of the reproduced graphics, some biographical notes and a full checklist of all exhibited originals in oil and water color.
בערך בתקופה שספר נהדר זה יצא לאור, החליט הונדרטוואסר לעבור ולהתגורר בניו זילנד. מאז 1975 התגורר בעיירה הזעירה (1,400 תושבים) קאווה-קאווה (Kawakawa) שבקצה הצפוני של ניו זילנד במבנה מבודד ללא חשמל ובה ראה את ביתו. ב 1983 קיבל אזרחות ניו זילנדית. באותה שנה עיצב את דגל הקורו Koru flag שאומץ ע"י המאורים, ילידיה המקוריים של ניו זילנד שלא אהבו את דגלה הרשמי של המדינה. הונדרטוואסר אהב צבע ושילב בציוריו אבקות מתכתיות בצבעי זהב וכסף בוהקים. חגיגה לעיניים.
The Koru flag designed by Hundertwasser
Hardcover: 97 pages, 24 full color plates
Publisher: Gruener Janura AG, Glarus, Schweiz, First edition 1-25000 (1973)
Language: English; Introduction by Richard Teller Hirsch, Auckland City Art Gallery

ASIN: B000GLDMKI
Price: Call
***
A major part of the effect of Hundertwasser's painting is color. Hundertwasser uses colors instinctively, without associating them with a definite symbolism of even his own invention. He prefers intensive, radiant colors and loves to place complementary colors next to one another to emphasize the double movement of the spiral, for instance.
This is how Wieland Schmied describes Hundertwasser's approach to color in his afterword of this beautiful art book - a real gem with a title which is full of love - The Way to You.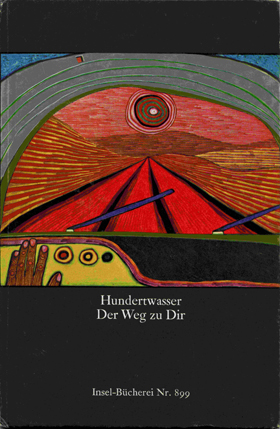 Hundertwasser: Der Weg zu Dir
24 beautiful color plates with drawings, paintings, mixed media of oil, watercolor, egg tempera, polyvinyl and chalk. Many writing samples in various types of fonts: hieroglyphics, Arabic, Hebrew, sign writing and more. The essay "Der Spiegel des NarziB" - "The Mirror of Narcissus" by Wieland Schmied about the new paintings of Hundertwasser is closing the book.

הדרך של הונדרטוואסר אלייך - פנינה בצבע למבינים.
Hundertwasser: Der Weg zu Dir
Hardcover: 71 pages, 24 full color plates
Publisher: Insel Verlag - Insel-Bucherei Nr.899, First edition (1971) of the first time 1967
Language: German; Introduction and afterword by Wieland Schmied
ASIN: B000GLDMKI
Price: Call
References:
Tobey by Wieland Schmied
***
"ONLY CREATIVITY CAN BRING US CLOSE TO PARADISE" says the opening title of this beautiful cloth covered small format album which accompanied Hundertwasser retrospective exhibition at the Haus der Kunst in Munchen 1975. This comprehensive album with more than 200 best quality reproductions covers Hundertwasser's oeuvre from juvenile (1943) to matureness (1975).
Hundertwasser Friedensreich Regentag
זוהי המונוגרפיה המקיפה ביותר מבין המונוגרפיות של הונדרטוואסר שיצאו לאור בפורמט המיוחד של הוצאת Gruener Janura השוויצרית. שפע של תמונות החל מן התקופה הצעירה ועד למועד התערוכה הרטרוספקטיבית במינכן 1975 - רפרודוקציות באיכות דפוס מעולה על נייר משובח - פריט אספנות מושלם.
Hundertwasser Friedensreich Regentag: Haus der Kunst 1975 Munchen
Hardcover: 459 pages, 214 full color plates
Publisher: Gruener Janura AG, Glarus, Schweiz, Limited edition 1-25000 (1975)
Language: German; 3 introductions by Friedrich Weltz, Siegfried Poppe and Dr. W. Koschatzky
ASIN: B001OS0SJ0
Price: Call
Item:
B1016 - Friedensreich Hundertwasser Art Books
© Dan Levy - Art Pane Home of Art Books
---
< Back to Art Books
< Previous Next >