< Back to Art Books
< Previous Next >
---
Artists' Monographs & Art Albums for sale


Fernando Botero - A Family Picture

*
The list includes rare and out of print art monographs which describe the lives and works of the great painters and sculptors of the past and the present. Here you can look for reference art books about the great masters' ideas and innovations which revolutionized men's way of seeing and shaped our modern sensibility. Each volume include tens of black & white and color plates reproducing not only famous works and characteristic details but many significant, unfamiliar works as well as the atmosphere and color of famous places as seen in the works of these great artists. It is an indispensible source for biographical and critical studies, complete and up to date, written by authoritative writers and covering the entire field of art. Most of the books are in excellent condition and some of them are real collectible pieces.
Once you have made your selection from this list of art monographs books, contact me and I will send you further information including full description of the book's condition, price and estimated shipping cost. I'll be happy to answer all your questions and provide you with detailed information including photograph of the book's cover. As mentioned above - most of the books in this list are collectible items in a very good condition - click to open a pdf version of the art monographs book list for printing.
***

Christo and Jeanne-Claude were born on the same date in 1935; Jeanne-Claude died on 2009. Their works were credited to just "Christo" until 1994 when the outdoor works and large indoor installations were retroactively credited to "Christo and Jeanne-Claude". The purpose of their art, they contend, is simply to create works of art or joy and beauty and to create new ways of seeing familiar landscapes. This concise and fairly well-illustrated study includes a short biographical chronology and a bibliography and list of exhibitions of Christo's early works from 1961 through 1969. The writer Lawrence Alloway (1926 - 1990) was an English art critic and curator who worked in the USA where he met Christo in the 60s.
Christo by Lawrence Alloway
Hardcover: 23 pages of text, illustrated with 71 plates, 3 in color
Publisher: Thames and Hudson, London, First edition (1969)
Language: English
ISBN-10: 0500220093 / 0-500-22009-3

Price: Call
***

In 1961, the American artist George Segal (1924-2000) discovered a technique usable for life-size sculptures involving plaster and medical bandages used to set fractures. To create his sculptures Segal would wrap his subjects in the medical bandages dipped in plaster, allow the plaster to dry, and then cut off the hardened cast. He used himself as the model for his first life-size plaster sculpture, Man Sitting at a Table, but would used neighbors, family, friends and volunteers (never professionals), as his models thereafter. His sculptures where pure-white, frozen, lacking detail and Segal placed these blank canvases in realistic environments using props from the modern world. Later he improved his sculpting technique by pouring the plaster into casts, using them as molds in order to obtain greater detail. Segal would then paint the sculpture a single, bright hue.
William Seitz, who wrote this great monograph on the work of George Segal also wrote the earliest major text on Abstract Expressionism during his tenure as a curator at MoMA in the 1960s.
George Segal by William C. Seitz
Hardcover: 95 pages; 77 illustrations with 16 color plates
Publisher: Thames and Hudson, London, First edition (1972)
Language: English.
ISBN-10: 0500220166 / 0-500-22016-6
ISBN-13: 9780500220160
Price: Call
References:
The New York school: abstract expressionism in the 40s and 50s

***

The American abstract expressionist painter Mark Tobey (1890 - 1976) accepted the Bahai Faith in 1918 and drew inspiration and technique from many cultures of East and West, from cities, nature and science. Tobey created art that broke new ground and influenced many other artists - read more on Tobey's life and artistic accomplishments. The art historian and art critic Wieland Schmied who wrote this comprehensive art work was the director of the Kestner-Gesellschaft in Hannover and the curator of the National Gallery in Berlin.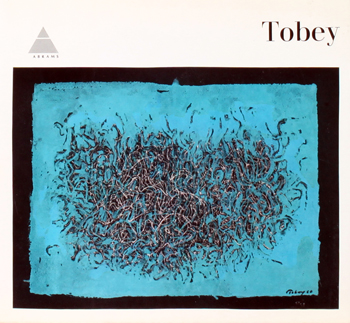 Tobey by Wieland Schmied
Paperback: 85 pages; Chiefly plated
Publisher: Abrams, New York (1972)
Language: English - translated from the German by Margaret L. Kaplan.
ISBN-10: 0810921006 / 0-8109-2100-6
ISBN-13: 9780810921009
Price: Call
References:
Hundertwasser: Der Weg zu Dir with afterword of Wieland Schmied


***

The paintings of the renowned Columbian artist Fernando Botero introduce inflated forms, puffing up to an exaggerated size human figures, natural features, and objects of all kinds, celebrating the life within them while mocking their role in the world. The symbols of power and authority: presidents, soldiers and churchmen are Botero's targets. , or the wish - maybe inconsistent - not to be trapped by conventional religious subjects". The German art historian and curator Klaus Gallwitz, the former director of the Stadel Art Institute in Frankfurt, has prepared a beautiful art album with tens of plates, most of them in color.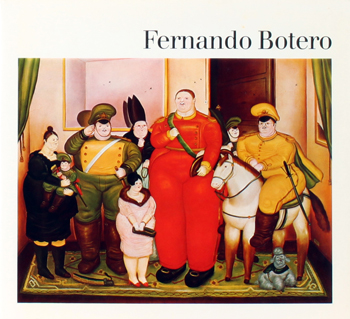 Fernando Botero by Klaus Gallwitz
Hardcover: 88 pages; 56 plates, many in full color
Publisher: Thames and Hudson, London, First edition (1976)
Language: English - translated from the German by John Gabriel.
ISBN-10: 050009117X / 0-500-09117-X
ISBN-13: 9780500091173
Price: Call

***

Saul Steinberg (1914 - 1999) did not represent what he saw; rather, he depicted people, places, and even numbers or words in styles borrowed from other art, high and low, past and present - this was the fundamental principle of his work: his art is about the ways artists make art. The Inspector art album represents Steinberg's view of "many of the worst & best aspects of the modern universe" including parades, time & space, music-writing, rubber-stamp architecture & society, the professional avant-garde, words & letters and cowboys. In his pictorial imagination, the very artifice of style, of images already processed through art, became the means to explore social and political systems, human foibles, geography, architecture, language and, of course, art itself.
Saul Steinberg - The Inspector

Saul Steinberg is regarded as the best cartoonist America ever had. Publishing mainly in The New Yorker, Steinberg has erected standards of precision and graphic intelligence that had not existed in American illustration before him - his playfulness and elegance are of a sublime order. The following quote was taken from the Time Magazine issue of April 17, 1978 which dedicated its front cover story to "The Fantastic World of Steinberg".
Steinberg is a loner, a cosmopolitan Jewish exile, a refugee, a man of masks, languages and doctored identities, through whom the world's multiplicity is refracted as by a prism. In America, he is both outsider and insider: only he could have dreamed up the poster that summarizes the Manhattanite's provincial view of America: Ninth and Tenth avenues wide in the foreground, a strip of Hudson River, a smaller strip of New Jersey, and in the background a few scattered cities - Los Angeles, Las Vegas, Chicago - with Japan and China in the distance.
סול סטיינברג Saul Steinberg, המהגר היהודי יליד רומניה, הגיע לארצות הברית מאירופה בשנת 1940, נטמע בתרבות האמריקנית, הפך חלק ממנה והיא חלק ממנו. לפני שהגיע לארצות הברית למד באיטליה ארכיטקטורה. בראיון לשבועון "טיים" הוא סיפר:
לימוד ארכיטקטורה הוא אימון נהדר לכל דבר חוץ מארכיטקטורה. אתה לומד שם כמה דברים בסיסיים, למשל, לחדד עפרונות. המחשבה המפחידה שמה שתיכננת על הנייר עלול להפוך לבניין ממשי, ממתנת את קוויך. לחלק גדול מן התלמידים היו לימודים אלה אליבי למשהו אחר או מלכודת. למדנו שם את כל הנוסחאות של התקופה. תקופתי אז היתה שלהי התנועה האמנותית הקוביסטית דרך בית-הספר של הבאוהאוז. בתעודת הגמר שלי צויין ,שאול סטיינברג, בן הגזע היהודי. התעודה נחתמה בחותם המלך עמנואל השלישי. זו היתה איטליה של שנת 1940, עמנואל השלישי חתם כמלך איטליה, כמלך אלבניה וכקיסר אתיופיה. היופי בעניין הוא זה, שהדיפלומה הוענקה על-ידי מלך שאינו עוד מלך איטליה, שאינו עוד מלך אלבניה, ושאינו אפילו קיסר אתיופיה. ושאני לא ארכיטקט. הדבר היחיד שנשאר בתוקף הוא הגזע היהודי
סטיינברג הוא "האמן המציץ" הרואה אנשים כחתולים מודאגים, את האמן כמוצר של עצמו, ואת חיי האדם היוצר כמודרכים ע"י השיעמום. ההומור ללא הפואנטה שלו עיצב את חשיבתם של אמני איור ורישום רבים ברחבי העולם המערבי.

Hardcover: 184 pages; 180 illustrations
Publisher: Thames and Hudson, First edition (1973)
Language: English.
ISBN-10: 0500010986 / 0-500-01098-6
ISBN-13: 9780500010983
Price: Call
References:
Saul Steinberg in XXe Siecle Nouvelle Serie - PANORAMA
Hans-Georg Rauch: Rauchzeichen

ספרי אמנות ואלבומי אמנות נדירים למכירה לאספנים - אלבומי ציירים ופסלים ומונוגרפיות של אמנים - רשימה מספר 1 - ספרות עיון קלאסית בנושאים שונים של האמנות החזותית

אם ברצונכם בספרים מרשימה זו של אלבומי ציירים ופסלים, התקשרו ואשלח תיאור מפורט, מחיר, אמצעי תשלום ואפשרויות משלוח. רוב הספרים במצב טוב מאד. אשמח גם לספק מידע נוסף בקשר לתוכנו ולמצבו של כל ספר כולל צילום לפי בקשתכם. קובץ ה pdf הזה - רשימת אלבומי ציירים ופסלים ומונוגרפיות של אמנים מתאים להדפסה.


PDF Printer Ready: List of Contemporary Artists Monographs
Price: Call
Item: B1027 - Contemporary Artists Art Books
© Dan Levy - Art Pane Home of Art Books
---
< Back to Art Books
< Previous Next >