< Back to Art Books
< Previous Next >
---
Les Dessins de Hans Bellmer - introduction by Constantin Jelenski
Hans Bellmer - Oeuvre Grave by Andre Pieyre De Mandiargues
***
The German artist Hans Bellmer (1902 - 1975) was a controversial painter and sculptor whose art oeuvre was driven by the fear and hatred he felt as a child towards his oppressive father. His provocative eroticism which was nursed from the nostalgic desires associated with the secret sexual encounters of his adolescence, stroke a blow against the regime authority and stagnated society of his time.


Hans Bellmer - Oeuvre Grave by Andre Pieyre De Mandiargues

Having shown artistic talent at an early age, he began his career as a commercial artist in designing advertisements and illustrating books in a style influenced by George Grosz who taught him drawing and perspective in Berlin of the late 20s.
When the Nazis gained power in 1933, with Bellmer's father among their keenest supporters, Bellmer expressed his protest against the tyranny reign by building a life-size Doll - Die Puppe. This first Doll, built with the help of his brother from broom handles, metal rods, carved wood and plaster, contained a small panorama enabling scenes lit by a torch bulb to be seen through the navel. The Doll photograph was accompanied with an intricate prose poem which demonstrated how the seemingly innocent games of the young child had developed into the far from innocent sexual fantasies of the adult.
The Doll was enthusiastically accepted by Andre Breton, Paul Eluard and the members of the Surrealistic movement in Paris who immediately appreciated it as an ideal Surrealist object because of its conjunction of desire and revolt. In 1938, when Bellmer escaped from Nazi Germany to Paris, the Doll was among the few items he took with him.
After World War II, Bellmer concentrated on meticulous drawings and prints, many of which are included in the beautiful books presented here.
***
Les Dessins de Hans Bellmer (The Drawings of Hans Bellmer) is an excellent monograph with a preface by Constantin Jelenski and tens of beautiful drawings, etchings and sketches from Bellmer's planet - a thriving, multifaceted and innovative art work where eroticism, the body of the woman and the masochistic universe melt together into an incredible outcome.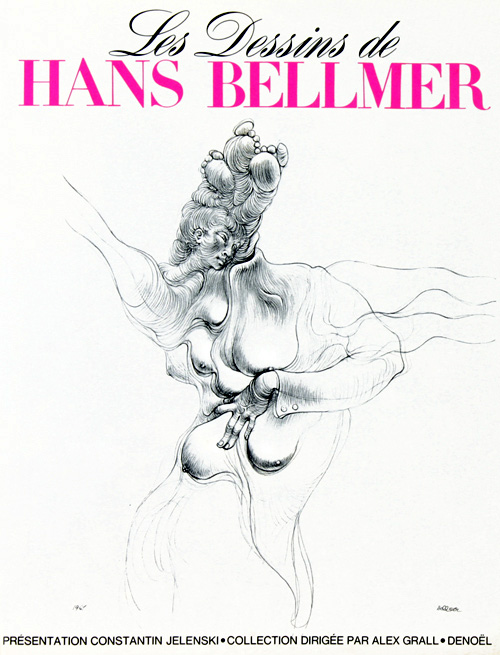 Les Dessins de Hans Bellmer
Hans Bellmer - Surrealism on the Edge - הנס בלמר
הנס בלמר (1902 - 1975) היה ילד עדין שסבל מאבא עריץ ומדכא ומצא מפלט בעולם האירוטי של "גן סודי" שבו נפגשו הוא ואחיו עם נערות השכנים שהצטרפו אליהם למשחקי נעורים מיניים. זו היתה כנראה החוויה המכוננת של בלמר שהשפיעה על דרכו האמנותית ונושא יצירתו האובססיבי. המשחקים התמימים לכאורה של הילדות הפכו לפנטזיות הפרועות של הבוגר - אירוטיקה פרובוקטיבית כנגד עריצות וסמכות.
ב-1933 לאחר עלייתו של היטלר לשלטון, בזמן שהשלטון הנאצי מיצב את דמות האישה הארית כאם פורייה, בריאה, נקייה ובעיקר - רעיה מסורה, הכין בלמר סידרה של בובות נשים בגודל אמיתי, פגומות, מתריסות, עסוקות במיניות שלהן באופן אובססיבי - אוננות, משגל ושכרון חושים מופקר. הגרמנים לא אהבו את זה. ב-1938 נמלט לפריז, שם זכה להצלחה רבה והתקבל באהדה על ידי קהיליית האמנים הסוריאליסטים המקומית שהעריכה את שבירת הטאבו וחשיפת התשוקות המיניות האנושיות המודחקות שבוטאו בעבודותיו. בהמשך נכלא בכלא הצרפתי של שלטון ווישי.

עם תום המלחמה בלמר התמקד בצילום וציור אירוטי - בעיקר רישומים והדפסים שמוצגים בספר הנהדר שלפניכם. יש הרואים בהנס בלמר את אחד מראשוני הריאליזם הפנטסטי למרות שלא נמנה עם קבוצת המייסדים שהנצה בוינה בשנים שלאחר מלחמת העולם השניה - בלמר הממוקד בנושא, ובעל מיומניות טכניות מרשימות, לקח את הסוריאליזם צעד אחד רחוק יותר.

Hardcover: 110 pages of text, over 90 black and white plates
Publisher: Denoel, Paris, First Edition (1968)
Language: French.
Price: Call
***
Hans Bellmer - Oeuvre Grave is a catalog raisonne of Hans Bellmer's prints with high quality black and white plates and a scholar introduction by the French writer Andre Pieyre de Mandiargues. The book comes with a beautiful black cloth-covered boards with embossed design and title stamped in pink on cover and in black on the spine - a real lust.


Multilayer Nude by Hans Bellmer

קראתי בבלוג של ד"ר מיכל פופובסקי שבלמר רצה לחפור את גוף האשה ולפרק אותו ובכך "העניק" לוגיקה חדשה למעשה האמנות - לוגיקת העומק והפנים - ע"י ביצוע מעשה הפירוק והחיתוך, יתגלה הנסתר:
ב-1941, בעקבות סיפור העין של בטאי Georges Bataille, הפיק הנס בלמר Hans Bellmer סדרת ציורים ותחריטים. עם העפרון החד כסכין ועם הציפורן, יצר בלמר בדיוק מרשים, שני סוגי קווים: הפליסה plisse והקו המקומר המתפתל. באמצעותם בטא את רצונו לפרק את הגוף ובראש את גוף האשה, על מנת להתקרב ככל האפשר למושא בלתי ידוע, בלתי נראה, נסתר ואף סתום. בחפשו אחר הדבר השוכן בעומק עומקיו של הגוף, המשיך בלמר לצייר, לחרוט, לפתוח את הגוף, לשסע אותו, לבקע אותו ולהוציא החוצה את איבריו.
זה מעניין.
Hardcover: 104 pages of text, 102 black and white plates
Publisher: Denoel, Paris, First Edition (1969)
Language: French.
Price: Call
References:
Hans Bellmer in XXe Siecle Nouvelle Serie - PANORAMA
Max Ernst - Das Karmelienmadchen Ein Traum - A Little Girl Dreams of Taking the Veil
Anton Lehmden Die Graphik by Walter Koschatzky - Original Signed and Dated Etchings
Rudolf Hausner by Wieland Schmied
Ernst Fuchs: Die Symbolik des Traumes by Gotthilf Heinrich von Schubert
"Im Kuss der Sphinx" - Rare Master Color Etching by Ernst Fuchs

Item: B1037 - Hans Bellmer Art Books
© Dan Levy - Art Pane Home of Art Books
---
< Back to Art Books
< Previous Next >