< Back to Art Books
< Previous Next >
---
Max Ernst: Das Karmelienmadchen Ein Traum - A Little Girl Dreams of Taking the Veil
Hommage a Max Ernst with Original Color Lithography - Special Issue by XXe Siecle
***
The German great surrealist artist Max Ernst (1891 - 1976) abandoned formal studying when he was 18 and decided to concentrate on art. At that age, young Ernst was interested in psychology and in the art created by artists with mental illnesses. In his preliminary steps as an artist, he experimented in expressionistic painting, and made friendships with Hans-Jean Arp and August Macke.
During his service at the German army in the first World War, Ernst was positioned in a charting maps unit and therefore was able to continue painting and exhibited his works at the Der Sturm gallery in Berlin. When the war was over, he returned to Cologne and founded the Cologne, Germany Dada group with Alfred Grunwald (AKA J.T Baargeld) and with Jean Arp, who was to become a lifelong friend of Ernst. In 1919 he produced his first collages, a technique which would dominate his artistic pursuits and which, in the years to come, would led him to publish his supreme masterworks - the collage novels.
Max Ernst - Little Girl Dreams of Taking the Veil
האמן הסוריאליסט מקס ארנסט (1891-1976) גדל במשפחה גרמנית קתולית אדוקה עם אב מורה "משליט משמעת" שהצליח להטביע בבנו את הרצון למרוד ולקרוא תיגר כנגד כל גילוי סמכות ודרישה לציות. עם רקע כזה, היה ארנסט הצעיר בשל לנוע אל עולם האמנות וגם פה עשה זאת בדרכו שלו, ללא לימודים פורמליים - ספג ממי שספג, התחתן עם מי שהתחתן, התחבר עם אמני האקספרסיוניזם הגרמני ואחר כך עם הדאדאיסטים ואחר כך עם הסוריאליסטים בפריז ועם האקפרסיוניסטים האמריקאים ועם עוד רבים.
הספר Das Karmelienmadchen Ein Traum או בשמו הצרפתי Reve d'une petite fille qui voulut entrer au carmel שיצא לאור ב-1930 ושגרסתו הגרמנית מוצגת כאן לפניכם, מבטא לדעתי את פסגת יצירתו של ארנסט - ביטוי נועז של רבדים אירוטיים אנושיים טבולים בהומור מוטרף ובוטה ועשויים ביד של מקצוען ובטכניקה פורצת דרך - הרבה לפני עידן הפוטושופ.

Front cover of Das Karmelienmadchen Ein Traum - A Little Girl Dreams of Taking the Veil
Max Ernst
Das Karmelienmadchen Ein Traum (titled in English - A Little Girl Dreams of Taking the Veil; in French - Reve d'une petite fille qui voulut entrer au carmel) is, to my opinion, the peak of Ernst's collage novels. It was first published in 1930 and has a relatively coherent narrative, at least when compared with the other two renowned Ernst's collage novels: The Hundred Headless Woman (La femme 100 tetes) and A week of Kindness (Une Semaine de Bonte).
The hero of the novel is a young girl (Marceline-Marie) who was raped at the age of 7 on the day of her first communion and 4 years later, after experiencing a levitated episode in church, decides to commit herself to "taking the veil" and to become a nun. The content of the book is the visual description of the dream she had on the night of the day she took the decision to join the church.
Hoppla! Hoppla! - dancing amidst a swarm of crickets

הציר העלילתי של הספר Das Karmelienmadchen Ein Traum או בתרגום ישיר מן המקור הצרפתי "חלומה של ילדה קטנה שהחליטה להפוך לנזירה", די דומה לכותרת הספר וניתן לתיאור פשטני כדלהלן:
חלומה של ילדה שכנראה נאנסה ע"י הכומר שערך את טכס הקומיניון הראשון שבו השתתפה. בחלומה (או במציאות - למען האמת זה לא כל כך משנה) היא חווה חווית ריחוף באוויר ספיריטואליסטית (לוויטציה) ומחליטה להקדיש עצמה לכנסיה. התוכן של הספר הוא למעשה תוכנן של סצנות בחלום המוצגות ע"י 79 רישומי קולאז מופלאים שאין דומה להם. בכל עמוד מופיע ציור קולאז וכותרת (לעיתים מספר שורות של טקסט) סוריאליסטית שכביכול "מסבירה" מה קורה אך בפועל "זורקת" את המתבונן לעמקי המסלולים ההזויים של נפשו של מקס ארנסט.
הילדה, גיבורת הסיפור: מרסלין-מרי "מתפצלת" באיזשהו שלב בחלום לשתי ילדות: מרסלין ומרי המתקשות להבדיל עצמן אחת מן השניה. שתיהן חשופות, בחלום, למתקפות פיתוי עקביות של הכומר הפרוורטי המנסה לשכנען להתלוות אליו למקומות מסתור מדאיגים. מרתק ומצמרר.
Marceline-Marie's dream is described in 79 collages - bizarre visualizations of the erotic, schizophrenic and mostly nightmarish scenes of the dream she had that night. Each collage is accompanied with a few short lines of surrealistic and sometimes blasphemous text which surely leverages the impious apocalyptic effect. The illustrations in this unique artist book are definitely among the most tantalizingly mysterious and obscure of all Ernst's work.
Die Stimme des Hochwurdigen Paters Dulac Dessale "Nanu Kindchen, wo wart Ihr am morgigen Tag?" Marceline und Marie (unisono) "Heute werden wir zwanzig Jahrhunderte und ein biBchen alter."
During her dream Marceline-Marie literally splits in two: Marceline and Marie. The two selves are frequently accosted by Father Dulac, (the reverend who administered the notorious first communion) who encourages both M&M to "Follow me, my beauty, to the cracks in the walls...". At the end of each of the four chapters of the novel, Marceline-Marie awakens to examine her bed clothes, and always finds her nightgown pulled up past her knees in "indecent" fashion.

ספרי הקולאז או ליתר דיוק נובלות הקולאז collage novels שפרסם מקס ארנסט החל משנות ה-20 הם לדעתי פסגת יצירתו האמנותית. ארנסט יצר מדיה אמנותית חדשה וחדשנית שהשפיעה ומשפיעה על רבים עד היום, וכך הוא תיאר את רגע הגילוי:
יום אחד, ב-1919, כשהתבוננתי בקטלוג ובו איורים של חפצי יום יום: מטריות, שעונים, כלי עבודה, בגדים וכדומה, הופתעתי לראות חפצים כה שונים זה מזה שוכנים זה לצד זה. הרגשתי צורך להוסיף בעפרון כמה קווים ושירבוטים שיחברו בין החפצים המוצגים ויצרו את התמונות שאני רואה בדמיוני ובחלומותי

בתחילה היה זה מספיק רק ל"יפות" מעט את התמונות שבדפי הקטלוג בנגיעות של רישום וציור וכך, בעדינות ליצור מחדש בתוך הדף את מה שראיתי כחלק ממני. כתם צבע, הדגש בעיפרון, נוף זר שעוטף את החפצים המוצגים, מדבר, סערה, חתך גיאולוגי, רצפה, קו ישר המייצג את האופק - כך ייצרתי תמונות שייצגו נאמנה את עולם ההזיות הפנימי שלי והפכתי דפי פרסומת בנאליים למראות דרמטיים שחושפים את תשוקותי הסודיות ביותר
בקולאז שלמטה המתאר אחת מן הסצנות בחלום, מוצג המלך וזקיף שומר. הטקסט (בגרמנית) הזוי ובהחלט מעל יכולות התרגום שלי. ארנסט הירבה לשלב ציפורים מוזרות בקולאזים שלו ובמיוחד את דמות הציפור האנושית המיוחדת לו שאותה כינה לופלופ Loplop. ארנסט טען שציפור זו מייצגת את האלתר-אגו alter-ego שלו ומקורה הקדמון משולב בסיפור חייה, או ליתר דיוק מותה, של ציפור מחמד שהיתה לו בילדותו ושהלכה לעולמה דקות ספורות לפני שאביו בישר לו על הולדת אחותו - שיהיה.
Pius XI. "Die Kahlkopfigkeit lauert Dir auf, mein Kind! Beim ersten SchuB werden Deine Haare mit Deinen Zahnen und Nageln ReiBaus nehmen. All dies wird nur meinem unsichtbaren Kleinod zugutekommen."
One of the many depictions of Ernst's alter ego Loplop, here as a king attended to by a bird-headed sentry

Max Ernst's collages were created by cutting out segments of woodcut illustrations from various sources such as Old masters engravings, mail-order catalogs, pre-photography illustrated penny novels as well as Victorian encyclopedias about nature, science, and exoticism. These materials were assembled and reconfigured into evocative, often disturbing surreal montages. The results are seamlessly pasted together, much so that it often seems difficult to imagine how these renderings could have possibly started out differently.
Max Ernst's collages, for all their strangeness, strive for overall coherence and technical plausibility. This plausible imagery, unlike the papiers colles of Picasso and Georges Braque, depends on an expurgation of the visible difference between artist's hand and non-artistic quotation. The joins and overlappings had to be concealed from the viewer. This is why Ernst frequently published his composite imagery only in printed form, in photographic reproduction or in versions later touched up with watercolor. Thanks to these tactics of concealment he succeeded in presenting collage as that which he thought it should be: a completely developed and autonomous system in which the origin of the separate elements is submerged in the final, total image. He was out to produce irritating imagery in which, as in the perfect crime, every clue to its identity had been erased.

Werner Spies - Max Ernst: A Retrospective.
The life of Max Ernst were quite diversified and colorful and yet less painful in comparison with the life stories of other German artists who were active in the era of the two world wars which thorn Europe in the first half of the 20th century. Ernst made multiple friendships which developed into artistic and financial collaborations, he was married several times (5) and moved from country to country (Germany, Franch, USA) in the right timing. Sabine Rewald describes Ernst as an "outgoing person who cultivated friends and lovers throughout his life, these associations forming the basis of his intimate participation in Surrealism".
It looks as if these masterpiece collages best present his great ability of cutting pieces from the most banal yet horrible materials of life, and cultivating them into his own strange yet poetic and humorous isolated escape islands of subject matter.
Paperback: 171 pages, 79 b/w collage illustrations, illustrated wrappers with protective grease-proof paper cover, a cardboard slip case
Publisher: Verlag M. DuMont Schauberg, Koln; 1st German edition (1971)
Language: German - translated by Werner Spies.
ISBN-10: 3770106059 / 3-7701-0605-9
ISBN-13: 9783770106059
Price: Call
***
This special issue of the XXe Siecle artistic review on the oeuvre of Max Ernst was edited by Gualtieri di San Lazzaro and published in 1971 by Cahiers d'art, Paris. The beautiful art album is profusely illustrated with color and b/w reproductions of paintings, drawings as well as a few b/w photographs of Max Ernst - a comprehensive artist's monograph with an original lithography specially prepared by Ernst for the XXe Siecle edition.
The list of contributors includes Loni et Lothar Pretzell, Werner Hofmann, Werner Spies (read more on Werner Spies), Uwe M. Schneede, Patrick Waldberg, Eduard Trier, Helmut R. Leppien, Robert Lebel, Jean Cassou, William N. Copley, Julien Levy, John Russell, Bertie Urvater, Giulio Carlo Argan, Marcel Brion, Andre Pieyre de Mandiargues, Lucy R. Lippard, Giuseppe Marchiori, Gilbert Lascault, Yvon Taillandier and Rene de Solier.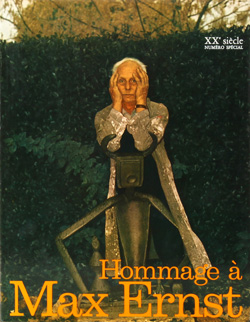 Homage to Max Ernst with Original Lithography by XXe Siecle

שפע הסקירות, המאמרים, הפרטים הביוגרפיים, התמונות והרפרודוקציות מרהיבות העיניים של עבודותיו של מקס ארנסט Max Ernst באלבום שלפניכם מגלה את מקורות השראתו של ארנסט ומאיר את מקומו המיוחד בתולדות האמנות. גולטיירי די סן לזרו Gualtieri di San Lazzaro, המו"ל והעורך הראשי של סדרת המונוגרפיות XXe Siecle Hommage a הצליח להציג את הפסיפס הרחב של פיסות חייו ועבודתו של ארנסט: הניסויים שערך בנערותו בציור אקפרסיוניסטי, קשרי הידידות עם הנס ארפ ואוגוסט מקה Macke, השתתפותו במלחמת העולם הראשונה, מעורבותו הפוליטית, שיתופי הפעולה עם החברים בתנועת הדאדא, הפרסום והתערוכות הראשונות בקלן, מקומו האינטימי בתנועת הסוריאליזם בפריז, נישואיו המרובים ונדודיו על פני יבשות.
מקס ארנסט היה אדם חברותי אשר טיפח חברים ואוהבים לאורך כל חייו - חברים שהיו הראשונים לקנות את ציוריו, לכתוב על עבודותיו ולחלוק בהצלחותיו, ובכל זאת, למרות הקשרים ההדוקים עם האמנים, המבקרים, האספנים ובעלי הגלריות המשפיעים, היתה עבודתו של מקס ארנסט מנותקת מעט מהזרם המרכזי של הסוריאליזם ומיוחדת בדרכה החתרנית ובהשפעתה העמוקה על האמנות בת זמננו.
האלבום כולל ליתוגרפיה צבעונית מקורית של מקס ארנסט שנעשתה במיוחד עבור הוצאת XXe Siecle Cahiers d'art.
Hardcover: 132 pages; profusely illustrated with b/w and color plates; original color lithography specially made by Max Ernst for XXe Siecle
Publisher: XXe Siecle, Cahiers d'art, G. di San Lazzaro, Paris, First edition (1971)
Language: French.
Price: Call
References:
Max Ernst in XXe Siecle Nouvelle Serie - PANORAMA
Hans Bellmer - Collectible Art Books and Artist's Monographs
the nonist - A Little Girl Dreams of Taking the Veil

Item:
B1044 - Max Ernst Art Books and Original Lithography
© Dan Levy - Art Pane Home of Art Books
---
< Back to Art Books
< Previous Next >