< Back to Furniture
< Previous Next >
---
***
The roots of the gate-leg table are in the baroque era when wood turning has become a major efficient process in furniture manufacturing and was utilized to create the wide variety of ornamentation and detail characteristic of tables, chairs, stools and cabinets of the baroque style.
In general, gate leg tables have at least one frame structure added to the main frame (half lapped into it) which pivots on one of its legs. This frame, namely the "gate", is pulled out to support a leaf which is hinged at the top. There are two main types of gate leg tables: those with one gate on each side, as the one presented in the schematic illustration below, which are typical to small and medium size tea tables, and those with two gates at each side which are typical to big dinning tables.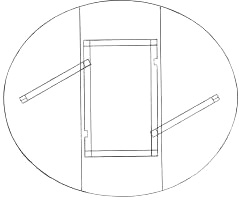 שולחן תה מתקפל (gate leg) אנגלי וויקטוריאני מאמצע המאה התשע עשרה. פני השולחן מורכבים משלושה לוחות עץ מהגוני נהדר (בסיס מלבני במרכז + 2 כנפיים flaps לכל צד) היוצרים יחדיו משטח אובלי עגלגל עם שוליים מדורגות מסולסלות וגילוף עץ עדין בדוגמת פרחים-עלים ברצועת ההיקף של האובל - שילוב נדיר ביותר ומדהים ביופיו. הרגליים, שגם הן עשויות עץ מהגוני משובח, חרוטות ביד נגר-חרט אומן ומורכבות על מסגרת המיוחדת לסוג זה של שולחנות מתקפלים ומאפשרות פתיחה של השולחן לפי מספר האורחים. לשולחנות gate leg מבנה הנדסי מתוחכם וקשה שלא להתפעל מיכולותיהם המקצועיות של אותם אומנים ובעלי מלאכה שעצבו, תכננו ובנו רהיטים כאלה בכלי העבודה ותנאי הייצור שהיו את במאות הקודמות ללא מנועים חשמליים וללא מכשירי עיבוד עץ מתוחכמים ממתכת. ייצור שולחן gate leg מעץ, בעל מנגנון נכון מבחינה הנדסית, מהווה אתגר אמיתי אפילו לנגרים מומחים בני זמנינו.


Antique Victorian Gate Leg Table

Gate leg tables usually come in two shapes: rounded oval tabletop or rectangular tabletop (rectangular tabletops are more practical when gate leg when the table is used as a dinning table rather than a tea table). The table presented here is a magnificent Victorian tea table with a mild elliptic shape tabletop which is conveniently suitable for four guests. The tabletop has a perfect scalloped edge and a beautifully carved pattern on the stripe around the circumference of the tabletop. It is a rare piece of high quality sophisticated woodworking.
האסטטיקה התכנונית של שולחן ה- gateleg מודגמת גם במצב מקופל - הרגליים נעות על צירים ומתקפלות כלפי פנים ושתי הכנפיים, כל אחת בצורת חצי עיגול, מתקפלות כלפי מטה ומכסות את מנגנון השולחן. המשטח המלבני שבמרכז יכול לשמש כמדף או כשולחן הגשה שמציבים בסמוך לקיר.


Antique Victorian Gate Leg Table - Folded

The Gateleg table in a folded position - the center rectangular part of the table top may serve as a decorative shelf.
This beautiful piece of antique furniture has 2 flaps, 2 gates and 6 turned legs - 2 corner legs and 4 main frame legs. The ornamentations of the corner legs and the main frame legs are slightly different because the gate must fold flat against the side of the frame and into the half-laps. The corner legs carry the primary motif, and the frame legs have an abbreviated version.

A stripe of delicate hand carved tulip-shaped leaves pattern surrounds the Gate Leg top.
A 3 inch border stripe of delicate hand carved tulip-shaped leaves pattern, surrounds the circumference of the tabletop and beautifully integrates with its scalloped edge. Open the table and your guests will be happy.

Height: 2' 5.5" - 75 cm - 29.5 in
Depth when closed: 1' 0.2" - 31 cm - 12.2 in
Dimensions of elliptic tabletop: 3' 3.4" x 2' 6.3" - 100 cm x 77 cm - 39.4 in x 30.3 in
Wooden frame and top: Mahogany wood
Origin: England
Manufacturing: English
Age: more than 150 years old (circa 1850) - all wooden elements are original and genuine.
Price: $3200
References:
Antique Tilt-Top Tea Table with Inlaid Marquetry Tabletop

Item:
F1003/07 - Victorian Gateleg Table
© Dan Levy - Art Pane Home of Antique Victorian Furniture
---
< Back to Furniture
< Previous Next >