< Back to Furniture
< Previous Next >
---
***
The rectangular design of our antique Piano Bench (erroneously called Piano Stool or Piano Chair by antique furniture dealers) was first introduced in the late 19th century. This type of piano bench usually had an upholstered cushioned seat that could be lifted giving the musician a storage compartment for his sheet. The frame of the bench was made of solid black oak wood with side carrying handles. In this unique Edwardian collectible piano bench, the beautifully carved wooden door at the front opens to the side, revealing a cabinet interior with two shelves, originally designed for music notes books.
מושב פסנתרן עתיק אנגלי אירופאי piano bench מתחילת המאה העשרים - עשוי מסגרת עץ כהה ומסיבית וכרית ישיבה מרופדת בד קטיפה עבה בדוגמת תבליט פרחוני בצבעי ירוק זית. למעשה המושב (כסא פסנתר piano stool כמו שקוראים לו סוחרי העתיקות) הוא מעין כוננית שיש בה חללי אכסון לספרי תווים ולעזרים מוזיקאליים שונים. הדלת המגולפת בקדמת הרהיט נפתחת לצד ימין ומאפשרת גישה לארונית מגרות. כרית הישיבה נפתחת כלפי מעלה על ציר נחושת איכותי ומאפשרת גישה לתא המלבני שמתחתיה. מושבי ספסל נוחים ויציבים כאלה שמשו מוזיקאים ולא רק פסנתרנים בחדרי המוזיקה המשפחתיים של בני המעמדות הגבוהים באירופה ואנגליה שלפני מלחמת העולם הראשונה. מרח אותו במעט שמן רהיטים ואח"כ - עדיף שישאר בבית.



Antique Edwardian Piano Bench - Opened Notes Cabinet

This piano seat has the right size and proportion which characterize a classical piece of furniture. It reflects gentleness and robustness, beauty and functionality. The hand carved wooden plate on the front door of the cupboard is a delicate piece of art which is perfectly echoed by the deep olive drab flowered pattern of the original seat upholstery.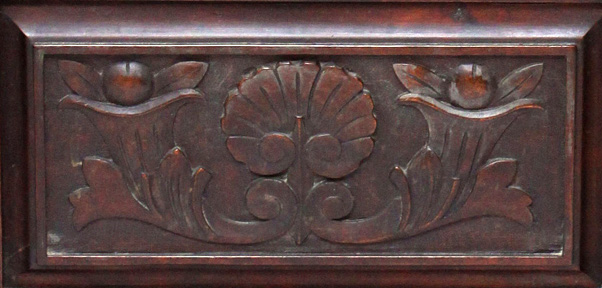 The whole piano bench cabinet stands on four round fluted legs and has a detailed fine molding to the front and side panels - put a few drops of furniture oil on it and it will bring grace to your home.

Height from floor to seat: 1' 9.7" - 55 cm - 21.7 in
Height from floor to handles: 1' 11.6" - 60 cm - 23.6 in
Width of cabinet box: 1' 7.7" - 50 cm - 19.7 in
Width between handles: 1' 10" - 56 cm - 22 in
Depth: 1' 1.4" - 34 cm - 13.4 in
Wooden frame and door: Black oak wood
Seat cushion upholstery: Traditional robust velvet
Origin: England
Manufacturing: English / European
Age: more than 100 years old (circa 1900) - all upholstery and wooden elements are original and genuine.
Price: Call
Item:
F1002/06 - Antique Piano Bench
© Dan Levy - Art Pane Home of Antique English Furniture
---
< Back to Furniture
< Previous Next >