< Back to Furniture
< Previous Next >
---
***
The development of the what-not type of furniture (defined as "a series of open shelves supported by two, three or four upright posts"), was driven by the passion for collecting and displaying ornamental objects that began in Europe in the 18th century. The French Etagere trend spread to England and the United States in the 19th century and gained this whimsically name whatnot - an English term used in daily speaking to incorporate "any other details not mentioned" and was adopted, in the furniture context, to explain that you can put on the whatnot's shelves whatever you like - a very open approach in those days.
כוננית ה what-not (מה לא) כללה שניים עד ארבעה מדפים פתוחים שנישאו על רגליים דקות וארוכות. ה what-not נועדה להצגה של חפצים יפים ושכיות חמדה בחדרי האירוח של משפחות המעמד הבינוני-הגבוה בצרפת ובאנגליה של המאה ה- 19. הפתיחות - כוננית נמוכה, נגישה, ללא דלתות ומחיצות זכוכית, סימנה את תחילתה של תקופה תרבותית באירופה - תקופת האספנות של המעמד הבינוני. בעלי הבית הגאים, איש איש לפי טעמו, נהגו להציג את אוספי חפצי הנוי שלהם, צעצועים, תכשיטים, מקטרות, פסלוני חרסינה ומה לא, בפני אורחיהם ואף לאפשר להם להתקרב לחפצים המוצגים, למששם ולשחק בהם. על זה דיברו, בזה התגאו ומזה נהנו. סחתיין.

The Victorian What-Not presented here has a light and elegant design, typical to the early versions of this type of furniture which appeared towards the end of the 18th century and the beginning of the 19th century.
gilt brass gallery on the upper shelf of the What-Not
The upper shelf of the What-Not is surrounded with a delicate gilt brass gallery and stands on ebonized smooth cabriole legs. The shelves' edges are decorated with a fine ornamented brass mountings.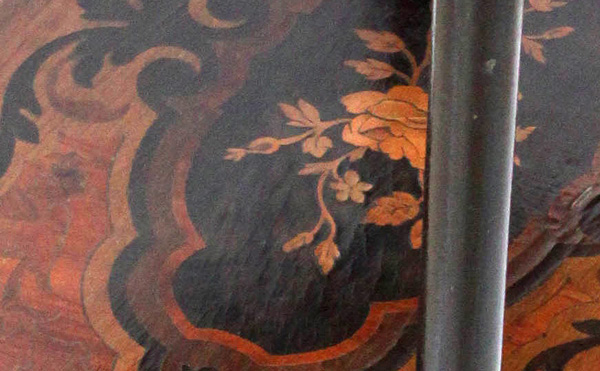 Antique Victorian Etagere with Marquetry

English furniture made at the end of the seventeenth and at the very beginning of the eighteenth century was greatly influenced by Dutch and French design, and by the arrival of Dutch cabinet-makers in the wake of William III.
Until the middle of the reign of Charles II, English makers of furniture had mostly relied on carving or paneling for decorative effect, but about 1670 a new style was introduced, mainly from Holland, of veneered work AKA marquetry. This allowed plain surfaces to be inlaid with marquetry of the richest description, including ivory, ebony and other colored woods, in the form of floral designs, birds or arabesques. This was especially effective on the fronts of cabinets, the tops of tables, long-case clocks, and on the drawer fronts and tops of chests-of-drawers. In the later work the greater part of the design was worked out in two-colored woods.
The shelves of our Victorian Etagere are decorated with a magnificent handmade unique wood marquetry art work of sophisticated flowery pattern made with high quality wood veneers in various dies of brown, beige and black - what a beauty.
Height::: 2' 6.3" - 77 cm - 30.3 in
Size of kidney shaped shelf: 10.6" x 1' 5.7" - 27 cm x 45 cm - 10.6 in x 17.7 in
Height between shelves: 9.4" - 24 cm - 9.4 in
Wooden shelves and uprights: Ebonized Mahogany wood
Shelf gallery and shelves decorated edges: Brass
Origin: England
Manufacturing: English
Age: more than 150 years old (circa 1860) - all marquetry and wooden elements are original and genuine.
Price: Click for Price of Victorian What-not Etagere in Art Pane shop
References:
Antique Tilt-Top Tea Table with Inlaid Marquetry Tabletop

Item:
F1004/08 - Victorian What-not Etagere
© Dan Levy - Art Pane Home of Antique Victorian Furniture
---
< Back to Furniture
< Previous Next >