< Back to Furniture
< Previous Next >
---
***
The first Nesting Tables furniture items, AKA Stack Tables, were introduced in England at the end of the 18th century. They were usually made in sets of three or four small light tables in graduating sizes which were designed to fit one under the other and thus save storage place when not in use. The upper class ladies of the era found these beautifully decorated pieces of furniture very practical for their living rooms since they added useful extra serving and work space when used separately for needlepoint, checkers and tea serving.
The rare cascading tables of the nest presented here have beautiful black Japanned lacquer paintings on their tops and delicate gilt tracery on their well-shaped legs. They represent the fruitful integration of the proficient and styled English carpentry craftsmanship and the fine art tradition of the Chinese and Japanese artisans who produced lacquer furniture of a quality and beauty rarely seen in Europe.


Antique English Nested Tables when Not in Use

The three nesting tables fit one under the other when not in use
שולחנות מקוננים Nested Tables הם הפתרון המושלם למארח שרוצה לחסוך במקום ויחד עם זאת להיות תמיד מוכן לפרוס במהירות לפני אורחיו שולחנות קלים ועליהם מיני תקרובת ומשקאות. סטים של שולחנות הגשה המשתלבים אחד בשני ותופסים מקום של שולחן אחד כשאין צורך בהם, שבו את ליבן של נשות החברה האנגליות החל מן המאה ה-18 והפכו לפריט ריהוט פופולרי, גמיש ונוח לשימוש באירועים כמו גם בשגרת הבית.
משטח ההגשה של כל אחד משלושת שולחנות עץ האגוז Walnut העתיקים היפיפיים שבסט שלפניכם, נושא ציור לכה יפנית שחורה Black Lacquer מופלא העשוי בטכניקת ה Japanning שפותחה באנגליה בשלהי המאה ה-17 והפכה לכלי ביטוי אמנותי מיוחד ששילב את תרבות המזרח הרחוק, סין ויפן בחיי היום יום של בני המעמדות הגבוהים האנגלים.


Antique English Nested Table - Large size



Japanned Lacquer Painting on Top of the Large Table

Japanned Lacquer Painting - Oriental scene: a girl with a bouquet of flowers, a bird and a butterfly
Original pieces of Chinese and Japanese lacquer in many colors, amongst them black, red, green, blue and cream had, at Queen Anne's accession, been imported to England over a hundred years, but it was not until the Restoration style period that this delicate type of traditional Eastern art became popular in the English furniture decoration. By the end of Charles II's reign, several styles of lacquer-work such as the Coromandel Lacquer (AKA Bantam work after the name of the Dutch trading station there) and its mild variant which was less incised and employed more gilt decoration, became very fashionable.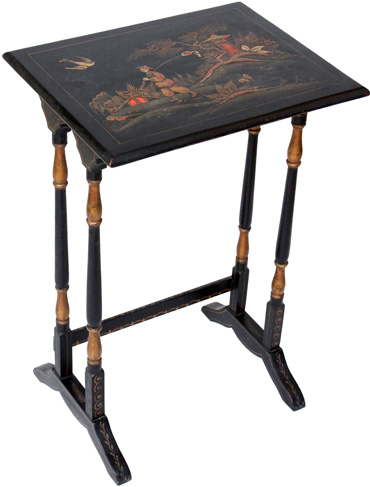 Antique English Nested Table - Medium size



Japanned Lacquer Painting on Top of the Medium Table

Japanned Lacquer Painting - Oriental scene: a boy with a kite, a bird and a butterfly
In general, the Europeans found the Eastern carpentry work to be far inferior to their own, so at first, mostly screens, cabinets and bare pieces of lacquer, were imported from the East, cut up and applied to locally made furniture frameworks; furniture items were also sent out from Europe to the East to be decorated there. The increasing market demand and the difficulties English traders encountered when trying to directly import lacquer goodies from the East, encouraged attempts of English manufactures to copy the Chinese and Japanese designs and to integrate the Eastern lacquer manufacturing methods into their furniture products. An important contribution to this effort was the publishing of Stalker and Parker renowned book A Treatise of Japanning and Varnishing on 1688 which revealed "The best way of making all sorts of Varnish for Japan Wood...The Method of Gilding, Burnishing and Lacquering". The text provided English manufacturers with "Above an Hundred distinct Patterns for Japan-work in Imitation of the Indians, for Tables, Stands, Frames, Cabinets, Boxes etc." - in this context, the name "India" actually refers to China and Japan of course...


Antique English Nested Table - Small size



Japanned Lacquer Painting on Top of the Small Table

Japanned Lacquer Painting - Oriental landscape scene: a house, a fern, some flowers and a bird
During the years 1735 to 1750, the interest in Chinese and Japanese designs increased. The English leisured people looked on Japanning as a stylish pastime and a thriving trade arose with wares which were decorated to simulate Oriental lacquer and provided most of the local market. The Chinese and Japanese patterns were copied into a surface of colored varnish which was then polished and the design was built up with paste and saw-dust. The final decoration was made in gilt on the raised work and the un-raised parts were drawn gently onto the ground-work.
Japanning was a dominant style in English furniture decoration for a couple of tens of years, until the end of the 18th century, probably as much because the Japanese paintings were so diametrically opposed to the Renaissance classicism as any other reason. To the European eye, there seemed to be no discipline in the artistic line of the paintings and decoration that came from the East yet the results were perfect. This lack of apparent form led European lacquer artisans to extraordinary fancies, sometimes far away from anything recognizably Chinese or Japanese and to the creating of some of the most beautiful furniture of the seventeenth and eighteenth centuries.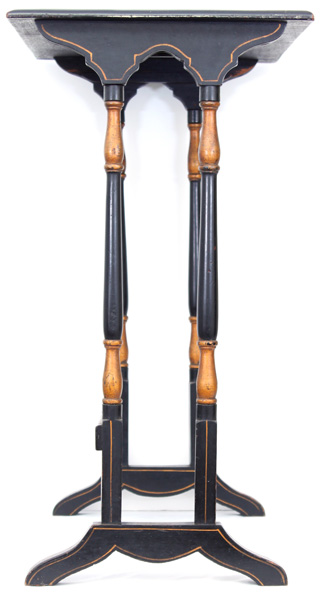 Gilt ornamentation and tracery on antique English Nested Table

Walnut Nesting Table: restrained in its ornamentation and admirable in its proportion
The furniture of Queen Anne's reign was restrained in its ornamentation and admirable in its proportion. These characteristics were continued into the reign of George I. The embargo placed by the French in 1720 on the walnut wood forced English furniture makers to look elsewhere for their supply of wood and they started to bring in walnut from Virginia which was of a much tighter grain and darker in color.


Guilt tracery - Antique English Nested Table

Delicate guilt tracery and ornamentation on the nesting tables legs
הסיפור שמאחורי פיתוח טכניקת הציור בלכה (לקה) הקרויה Japanning באנגליה הוא מעניין. ראשיתו בסין של המאה ה-1 לספירה שבה החלו אמני הריהוט הסינים להשתמש בטכניקת הציור בלכה לעיטור ולציור על פריטי ריהוט שונים ובעיקר על מסכי פרגוד, ארונות, שידות ושולחנות. הטכניקה והאומנים שהתמחו בה היו נתונים לחסותו הישירה של השלטון המרכזי בסין וסדנאות לכה Lacquer ממלכתיות הוקמו בפרובינציות השונות של המדינה. ביפן, שספגה תרבות וטכנולוגיה מסין, החלו לשלב עיטורים וציורי לכה ברהיטים רק במאה ה-8 לספירה והייצור כוון לשכבות העילית בלבד - אצילים ואנשי חצר הקיסר.
טכניקת הלכה שבה השתמשו בתעשיית הרהיטים בסין וביפן התבססה על השרף שהופק מהעץ Rhus vernicifera. את נוזל השרף הגולמי עיבדו בשיטות שנשמרו בסוד להשגת צבעים ומרקמים מגוונים בדרך כלל ע"י ערבוב פגמנטים ואבקות מתכתיות. אח"כ משחו את הלכה המעובדת בסבלנות ובדייקנות, שכבה אחר שכבה, על משטח הרהיט שרצו לעטר בד"כ עץ או במבוק שכוסה בשכבת בד משי או נייר עדין. תהליך הייבוש של הלכה בין שכבה לשכבה וליטושה היה ארוך ורק אחרי שהשכבות הרבות, לעיתים מעל ל-300 שכבות, כל אחת בצבע ובמרקם היחודי לה לפי סוג העיבוד, התייבשו והתקשו במגע עם האויר, חרטו האמנים במשטח הלכה העבה, חשפו את צבעי השכבות התחתונות וגילפו מהן בווירטואוזיות טכנית ואומנותית, צורות ודוגמאות מרהיבות עיניים. בסוף ליטשו והחליקו, לעיתים אף ציפו באבקת זהב ולעיתים השתמשו בטכניקות נוספות שהבליטו את העיצוב המוזהב על ידי הגבהת שטח העיטור בעזרת חימר, פחם, או אבקה, כדי שהוא לא ייראה רק בעין אלא גם יורגש על ידי מישוש.
פריטי ריהוט שעוטרו ביצירות לכה שנוצרו במזרח הרחוק, בעיקר פרגודים ושידות, הגיעו לראשונה לאירופה בשלהי המאה ה-16 כאשר ציי הסוחר של ספרד ופורטוגל ומאוחר יותר גם של הולנד, החלו לפקוד באופן קבוע נמלי סחר בסין, יפן וג'אווה. באופן טבעי מצאו פריטי עילית אלו, שיש אומרים שמחירם אז היה לא פחות ממחירם כיום, את מקומם בחצרות המלכים ומשפחות האצולה של היבשת, בצרפת ובארצות השפלה.
האנגלים היו מחוץ למשחק. העיצובים המרתקים מן המזרח החלו להגיע לאנגליה רק אחרי הרסטורציה של המלוכה ב-1660 וגם זאת בטפטוף ובמחירים מפולפלים שנבעו ממונופול הסחר עם סין שהיה בידי פורטוגל ומונופול הסחר עם יפן שהיה בידי הולנד. גם הנסיונות של חברת הסחר האנגלית The East India Company "לפתוח את השוק" ולסחור ישירות עם סין ויפן לא עלו יפה. הלקוחות האנגלים שיוועו למוצרי ריהוט אקזוטיים והשוק געש. המאמצים של הנגרים האנגלים לפרק את משטחי הלכה המקוריים המעטים שהגיעו לאנגליה ולעטר בהם את הריהוט האנגלי המשובח שייצרו לא סיפקו את הביקושים ובאנגליה החלה להתפתח תעשיית חיקויים.
אבן הדרך החשובה בסיפור היא פרסומו של הספר Treatise of Japaning and Varnishing בשנת 1688 ע"י John Stalker ו- George Parker שפירט במדויק ובשפה קריאה את דרכי הייצור של מוצרי הלכה מן המזרח - "הודו" כפי שכינו זאת פארקר וסטאלקר... הספר שכלל מאות מרשמים להכנת מוצרי לכות סיניות ויפניות המותאמים לחומרים שניתן להשיג באנגליה זכה להצלחה גדולה ובעקבות פרסומו נטבע המושג Japanning בשיח התרבותי האנגלי והפך להיות אפנה משגשגת שהפופולריות שלה נמשכה עשרות שנים. במושגים של היום היינו אומרים שהאדונים סטאלקר ופארקר ספק פיצחו ספק גנבו את סודות הטכנולוגיה עתיקת היומין ובכך אפשרו לאומני הריהוט האנגלים ברוכי הכישרון לייצר שכיות חמדה קסומות בטעם האוריינט כפי שאתם רואים בסט השולחנות היפיפה שלפניכם.

Height of Large Table : 2' 2.4" - 67 cm - 26.4 in
Size of Large Table Top Painting : 1' 8.9" x 1' 1.8" - 53 x 35 cm - 20.9 in x 13.8 in
Height of Medium Table : 2' 1.2" - 64 cm - 25.2 in
Size of Medium Table Top Painting : 1' 4.9" x 1' 1.2" - 43 x 33.5 cm - 16.9 in x 13.2 in
Height of Small Table : 2' 0" - 61 cm - 24 in
Size of Small Table Top Painting : 1' 1" x 1' 0.6" - 33 x 32 cm - 13 in x 12.6 in
Wooden frame legs and top: Walnut wood
Painting Technique: Japanning black lacquer and guilt tracery
Origin: England
Manufacturing: England
Age: more than 220 years old (circa 1780) - all wooden joints, Japanning lacquer painting and guilt tracery are original and genuine.
Price: Call
References:
Antique English What-not (Etagere) with Marquetry Shelves
Antique Victorian Gate Leg Tea Table
Antique Continental Tilt-Top Tea Table with Inlaid Marquetry Tabletop

Item: F1009/11 - Antique English Nested Tables - Japanned Lacquer
© Dan Levy - Art Pane Home of Antique English Furniture
---
< Back to Furniture
< Previous Next >