< Back to Paintings
< Previous Next >
---
מיכאל דרוקס - אסמבלאז' - לוח מודעות עירוני עם תה
The choice of the materials that Michael Druks uses in this early assemblage-collage work which preceded the Druksland series, plays an important role in understanding its meaning. The basis is a "sandwich" made of numerous layers of posters, advertisements and announcements regarding movies, concerts, lectures and other public events, glued together, one on top of the previous one. Druks managed to cut away these bulks of paper from municipal notice boards in Tel-Aviv of the 1970's.
It immediately brings to mind the idea of an archeological excavation into the city's cultural and political past, where the accumulation of layer upon layer provides us with a clear arrow of time. We are reminded of the very quick pace which characterizes the life of the city. Events and happenings which are "hot" today, and are publicized in big bold crying typed letters, are quickly buried and recede into oblivion beneath the new events and happenings.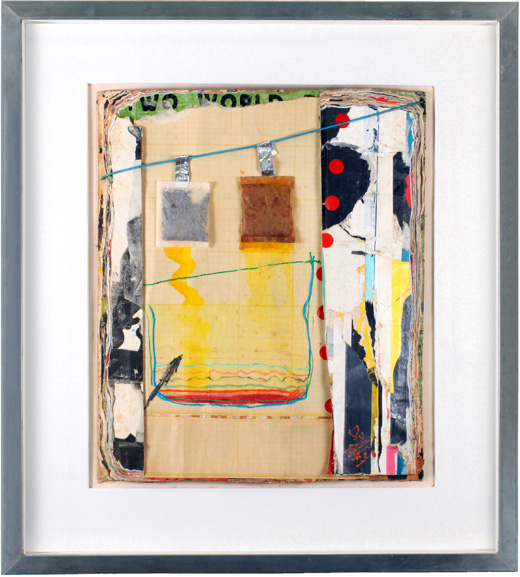 Notice Board with Tea by Michael Druks

But Druks carries this metaphor one step further. The lost memories of the city are becoming part of what one might regard as a portrait of a human face, with two tea bags for eyes and the posters of the municipal notice board "in the back of his mind".
In fact, the spectator doesn't get any access to the posters' content - the only thing that is visible is a few letters which might spell "two world". The skin covering the face is a millimetric paper. This type of paper was used for plotting results of scientific experiments in the times before computers and graphical software packages were introduced. Here, the millimetric paper records the tears which are dripping from the tea bags and accumulated in a scientific transparent jar. One must appreciate Druk's sense of humor - not only does he introduce the refreshing idea of using tea bags for eyes, but then one of them is a used tea bag and the other is fresh. Is he winking at us?
Michael Druks Biography - ביוגרפיה של מיכאל דרוקס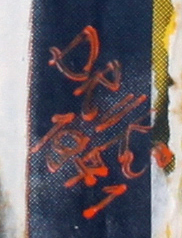 Michael Druks signature on the right bottom of the Notice Board assemblage.
למיכאל דרוקס יש חוש הומור שכנראה עוזר לאמנים רגישים, רזים ותלושים להתמודד עם הכאוס המאיים של החיים ועם המגבלות האנושיות שמתבהרות עם השנים. אינני זוכר אם שמעתי זאת ישירות ממנו או שזוהי קלישאה נפוצה במרחב שבין אמנים לצופים, אבל גם בשבילי ציור, כמו כל יצירת אמנות טובה הוא רק ההתחלה של תהליך פנימי שמנסה להבין מה זה עושה לי. אז מה זה עושה לי האסמבלאז' החידתי הזה? דמעות של תה שניגרות וניקוות בכלי קיבול מעבדתי, שקוף, מדעי - הנייר המילימטרי שברקע והחץ השחור שבו מצביע ה"מדען" על איזו שהיא נקודה תפלה על הגרף עושים לי את זה.
Size of drawing (without frame): 1' 1" x 1' 2.6" - 33 cm x 37 cm - 13 in x 14.6 in
Type of frame: Metal - the assemblage drawing is under glass, framed in a passe-partout
Painting technique: Assemblage - collage drawing
Origin: Israel
Date: 1971
Signature: "DRUKS 1971" - signed in English by the artist on the lower side of the painting.
Price: Call
References:
"Druksland" by Michael Druks - Collage Drawing
Michael Druks - Politicians on Stage - Ink and Synthetic Paint on Paper
Michael Druks - Assemblage Sculpture - Wooden Objects with Forks
Michael Druks - Photo Collage with Sellotape - Self Defaced Portrait
Michael Druks - Travels in Druksland by Galia Bar Or - Pages 30,31
Michael Druks - Biography and list of exhibitions
Buky Schwartz - Assemblage Drawing - Cotton Thread Line from C to D - 1971

Item:
P1013/PAI080 - Michael Druks "Sandwich" Assemblage
© Dan Levy - Art Pane Home of Original Israeli Paintings and Sculptures
---
< Back to Paintings
< Previous Next >