< Back to Paintings
< Previous Next >
---
שולמית בן שלום - פסל ברונזה - המלך
Shulamit Ben Shalom is a veteran sculptor who is living with us for many years but despite being one of the most original and fascinating Israeli artists, her name is not well known publicly. Born in 1934 in Moshav Herut in the center of Israel, the child Shulamit discovered the wonders of sculpting through playing with the wet soft clay soil she found under the orange trees in the orange groves of the moshav. This is what was written by the journalist Esther Zandberg in the article Unfurling the canvas (Haaretz Nov 27 2008) dedicated to the study by the Israeli art historian Dr. Ruth Markus et Al "Creative Women in Israel 1920-1970":
While working on the book, Markus discovered numerous women artists whose work had never been documented and who are unknown even to veteran scholars. One striking example is the sculptor Shulamit Ben Shalom, whose existence Markus learned of from the photographer Michal Heiman. "Anyone who sees the photograph in the book of one of her works," Markus says, "is impressed and surprised that he had never heard of her before."
הפסלת שולמית בן שלום נולדה בישראל בשנת 1934 וגדלה במושב חרות בגוש תל מונד. בתחילת שנות ה-50 למדה בסמינר למורים בגבעת השלושה, ובמקביל במחזור הראשון של מכון אבני, שם הייתה תלמידתו של הפסל משה שטרנשוס. ב-1957 נסעה לפריז, התקבלה ללימודים בבית הספר לאמנויות יפות, Ecole des Beaux Arts ועבדה בסטודיו של הפסל רנה קולאמריני Rene Collamarini בו פיסלה בעיקר בעץ ובאבן. בשנת 1966 חזרה מפריז ארצה. בשנים 67-68, לאחר שובה ארצה, כיוון שלא היה ברשותה מקום מתאים לפיסול בעץ או באבן, החלה ליצור בברונזה, בטכניקה הקרויה "השעווה האבודה" (בצרפתית "la cire perdue" - עיצוב ישיר של לוחות שעווה ללא מודל קודם מחמר). הפסלים המדהימים שיצרה באותה תקופה הם בעלי חומריות אקספרסיבית עצמתית, נראים מקופלים, מעוותים ולעתים גם קרועים ובעלי קצוות חדים. לדבריה, הושפעה מאוד ממלחמת ששת הימים ומוראותיה.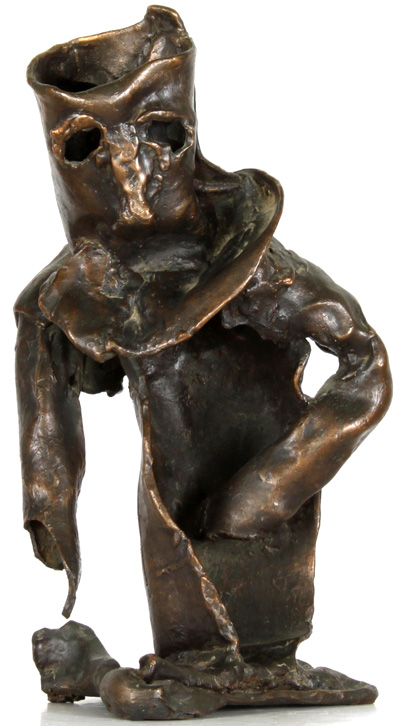 The King - Bronze Sculpture by Shulamit Ben Shalom-1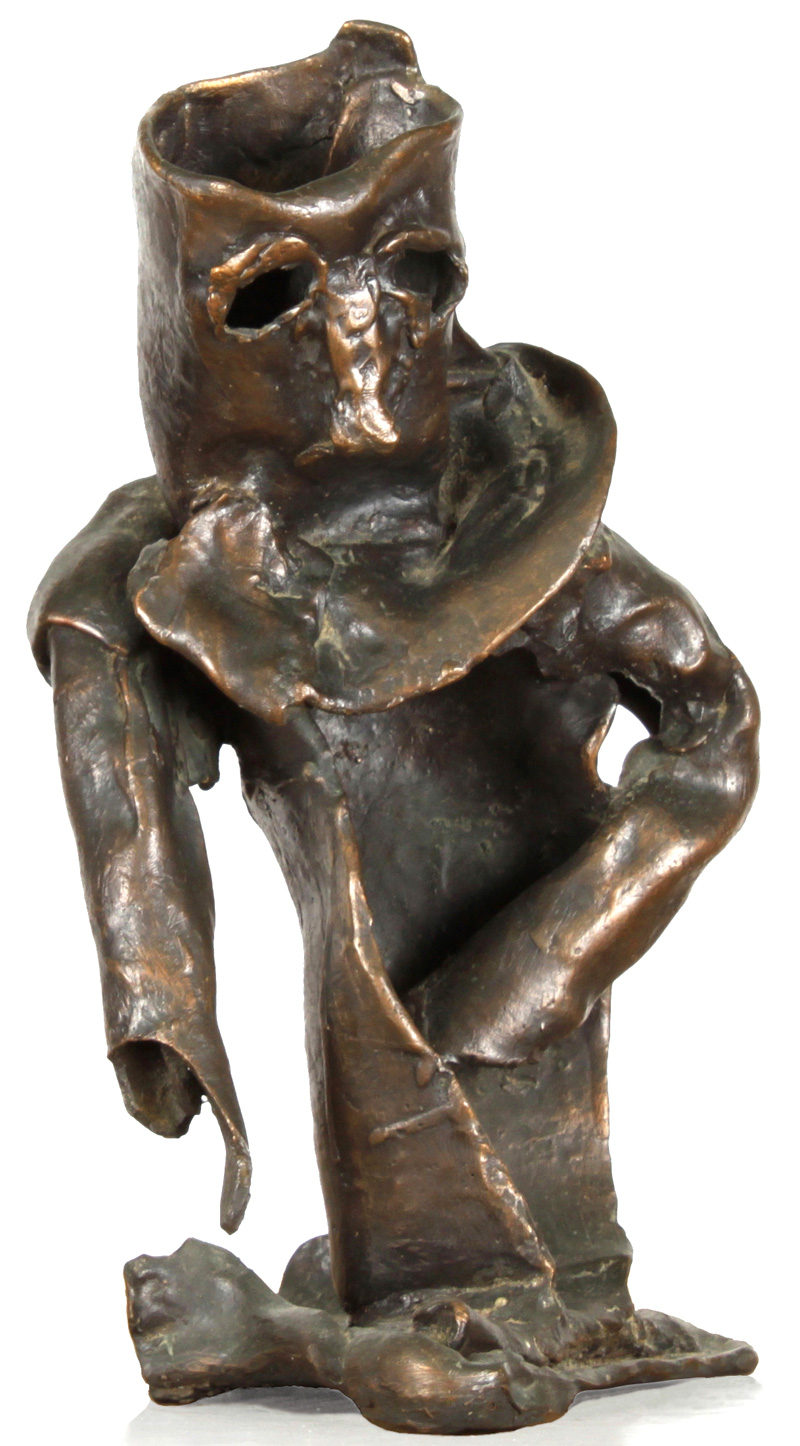 The King - Bronze Sculpture by Shulamit Ben Shalom-2

פסל הברונזה שלפנינו - "המלך" - נוצר ב"תקופת הברונזה" של שולמית בן שלום שחלה בשנים שלאחר שובה לארץ מפריז. מדיום הפיסול בברונזה מעניק תחושה חזקה של אחידות, קמאיות וארציות. היצירה מתחברת לרבדים הבסיסיים ביותר, לכובד ולמהות החומרית של הגוף ונחנה במוצקות של אבן בזלת, של לבה שהתקרשה. מצבו הרגשי קיומי של המלך אינו ניתן לייצוג אינטלקטואלי מילולי באמצעות מילים שפורחות באויר. הוא נתון במסגרת זמן אחרת, שבה השנים שלנו הן הרגעים שלו - נראה כילד מוכה שמכונס לתוך עצמו, מלך שנפל מגדולתו ומשרך את רגליו ברחובות כקבצן עזוב. מראהו אפוף עצבות חסרת ניחומים. עיניו הן שני חורים גדולים קרועים. הן ננעצות בך ואין לך איך ולאן להימלט מפניהן. אצבע ידו הימנית מצביעה על מקור נכותו וסבלו. דמותו ייחודית וחד פעמית - גם ברחוב הומה וצפוף תבחין בו מכל מרחק ובכל מצב.
Biography of the sculptor Shulamit Ben Shalom - ביוגרפיה של הפסלת שולמית בן שלום
A work of art is a place of meeting between its creator, its consumer and the work itself. And when this work is a sculpture, the material of which it is made plays an important role in this encounter. Each kind of material carries with it its own space of emotions, connotations and associations. Not only the material matters, but also the technique with which it is treated and molded into its final shape and form by the artist. The artist has to study the fine technical details and master them in order to achieve her goals, but we, as art consumers, have only to open our soul and mind and listen to our feelings when we meet with the work of art.
I can easily recall bronze statues which have a smooth and highly polished surface. In museums and art galleries you are not allowed to touch the exhibits, but some of these silky surfaces are very hard to resist. But this bronze sculpture displayed here - The King by Shulamit Ben Shalom - is very different. It is like lava that came flowing from the womb of the earth and at some point has chosen to solidify. Nothing is even or smooth here.
When you say about someone that he is "down to earth" you mean that he is a practical guy that keeps himself busy with solving day to day problems and overcomes them efficiently, perhaps at the price of not being able to perceive the world in any other way. But, in this case, I allow myself to use this expression in order to describe the bronze figure in front of us, and the meaning that I want it to carry is the opposite. This king looks to me so bitten, so lonely and long-suffering, so down to earth, so overwhelmed by life and its realities and while his body has such a strong physical presence, he, paradoxically, seems to be beyond all that. He seems to exist in a different dimension, as a pure spirit that doesn't care anymore about its earthly form. May he rest in (one) piece?
Height of sculpture: 30 cm - 11.8 in
Width of sculpture: 18 cm - 7.1 in
Depth of sculpture: 16 cm - 6.3 in
Sculpture material: Bronze
Sculpture technique: Lost wax
Origin: Israel
Date: 1967

Price: Call
References:
Biography of Shulamit Ben Shalom - The Powerful yet Modest Sculptor
Item: P1033/SCU002 - Shulamit Ben Shalom Bronze Sculpture The King
© Dan Levy - Art Pane Home of Original Israeli Paintings and Sculptures
---
< Back to Paintings
< Previous Next >