< Back to Art Books
< Previous Next >
---
The Sculpture of Marino Marini - Eduard Trier
Marino Marini: Sculpture Painting Drawing - A.M. Hammacher
Complete Works of Marino Marini - Herbert Read, Patrick Waldberg, G. Di San Lazzaro
***
Eduard Trier, one of the foremost international experts on the art of sculpture, traces the evolution on the work of Marino Marini (1901 - 1980) from some sketches done in the early thirties to his most mature statues and demonstrates his essential unity of style and purpose. The unity and the immense power of Marini's sculpture is clearly shown in Helmut Lederer's magnificent photographs which represent all the most important aspects of Marini's work and constitutes the core of this extremely valuable study.


The Sculpture of Marino Marini by Eduard Trier

A quote from the introduction of Eduard Trier:
Despite all the realistic freedom he reserves to himself, his formal idiom remains realistic, or more accurately, figurative. by realism, however, Marini does not understand the insipid imitation of so-called reality. Nor is realism for him an art-political catchword, since he does not feel himself to be in the opposition to the abstractionists. Realism means to him the readiness to allow the phenomena of our world to work upon him. Marini like all other ingenious artists, reacts to our complex reality that has ceased to be intangible to common sense, by erecting his monuments of man for mankind in the ancient language of the sculptor and in the traditional metaphors with which he grew up and which have become part of him.
Hardcover: 146 pages, 150 black and white plates, 2 Color plates
Publisher: Thames and Hudson, London (1961)
Language: English, translated from German by Michael Bullock
ISBN-10: 2711691276
ISBN-13: 9782711691272
Price: Call
***
In this beautiful art book over 300 illustrations which display the extraordinarily range of Marini's art in bronze, wood, plaster, stone, cement and terra cotta sculpture, as well as in oil, tempera, watercolor, gouache, ink and pastel. Important documentary photographs, showing Marini at work, and with his family, friends and colleagues, are also reproduced.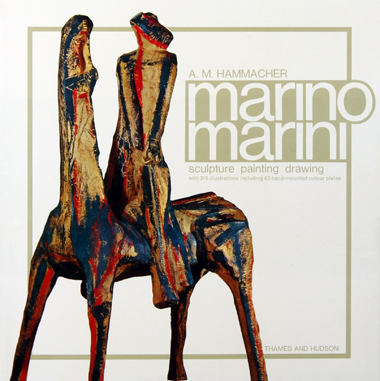 The author A.M. Hammacher was the director of Kroller Muller Museum, Otterlo, and an outstanding authority on modern sculpture and the author of the renowned art history monograph on the renaissance of modern English sculpture. In his respective text he survey Marini's career, discussing the influences which have helped to form the art of this great modern Italian master.
"כמי שנולד באגן הים התיכון, אני יכול לבטא עצמי בחופשיות רק דרך המדיום האנושי" אמר פעם הפסל והאמן האיטלקי מרינו מריני. ואכן מריני הוא האמן המודרני החשוב ביותר במסורת ההומניזם האיטלקי ארוכת השנים. לאורך כל הקריירה האמנותית שלו עסק מריני באובססיביות במספר מצומצם של נושאים שהבולט שבהם הוא "הסוס ורוכבו". בסדרות הארוכות של עבודותיו בנושא זה, מבטא מריני במיומנות טכנית מופלאה ובשלל צורות ותנוחות, עמדה אישית פיוטית וספוגת עצב כלפי החיים. לעומת זאת בנושא השני שבו התעמק - דמויות נשים: אלילות, רוקדות, רוחצות, מבטא מריני את הערצתו העמוקה לכוחות החיות של הפריון והאמהות האנושית. מריני היה גם פסל פורטרטים ענק (ראה ראשו של סטרווינסקי), צייר ורשם יוצא דופן באיכותו כפי שניתן לראות בעבודות שבאלבומים שלפניכם. תיהנו.

Hardcover: 330 pages, 315 illustrations including 63 hand-mounted color plates
Publisher: Thames and Hudson, London, First edition (1970)
Language: English
ISBN-10: 050009070X / 0-500-09070-X
ISBN-13: 9780500090701
Price: Call
***
"It seems that one could justly and without paradox describe Marino Marini as the last paladin of Western sculpture" this quote is taken from the text written by Patrick Waldberg, the author of this comprehensive monograph. "Not since Rodin has there appeared a body of work where richness and diversity combine such coherence and rigor, the whole set within such a great respect for life." continues Waldberg. Indeed, Marino Marini bent a constant and loving attention upon the living scene: nude figures, faces, dancers, jugglers, horses, warriors, all of them have been caught at a supreme point where particular form harmonizes with the secret rhythm of life. Marini's art, by its exemplary virtue, leads the mind forward from the familiar and the everyday, and guides it to the confines of the heroic and legendary.

This volume may be considered an homage rightly paid to the genius of the "last paladin of the Western sculpture". The editors (Introduction by Herbert Read, General Text by Patrick Waldberg, Catalogues and Notes by G. Di San Lazzaro) have tried to give this work a strict objectivity without, for as much, neglecting the technical realization which required the most perfected techniques of graphic art. With this 1000 reproductions, 80 of them in color printed under the artist's personal supervision, this volume constitute the largest repository of Marini's oeuvre items as well as the first general catalogue of his works.
Hardcover: 508 pages, 1000 reproductions, 80 of them in color
Publisher: Tudor Publishing Co., New York, First edition (1970)
Language: English
ASIN: B000F6Q3T6
Price: Call
References:
Marino Marini in XXe Siecle Nouvelle Serie - PANORAMA
A Concise History of Modern Sculpture by Herbert Read
Modern English Sculpture by A.M. Hammacher
Henry Moore - Sculpture and Drawings 1921-1969 by Robert Melville
Item: B1018 - Sculptor Marino Marini
© Dan Levy - Art Pane Home of Art Books
---
< Back to Art Books
< Previous Next >