< Back to Art Books
< Previous Next >
---
Henry Moore - Sculpture and Drawings 1921-1969 by Robert Melville
Homage to Henry Moore with Original Lithograph - Special Issue by XXe Siecle
***
This book surveys and illustrates, in one volume, virtually the whole work of Henry Moore (1898-1986) from the start of his career in the early 1920s up to 1969. In his text, the renowned art critic Robert Melville argues that Moore's form establish a remarkable relationship between human anatomy, the objects and configurations created by natural forces and the awesome figures which personify these forces in the art of primitive and archaic peoples. The ambiguity of his forms enables him to give one of the most popular subjects of European art, and one which has been central to his own work - the reclining figure - a significance beyond the scope of either descriptive or idealistic treatment. Moore's female idols, biomorphically embracing all created things, celebrate the beauty and mystery of the natural word and renew the potency of the graven image.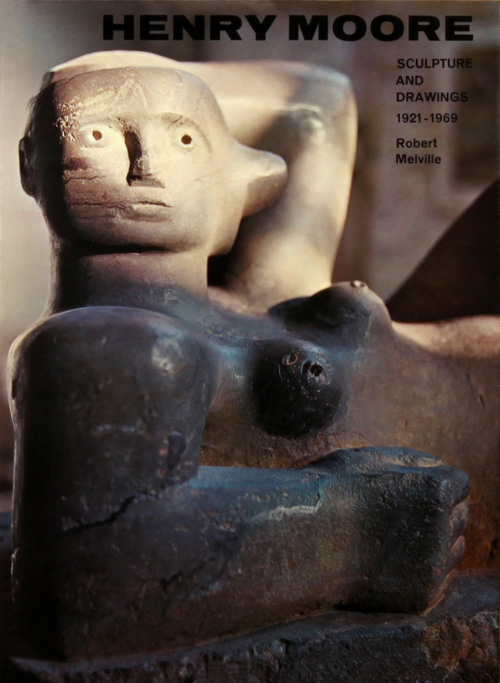 Henry Moore - Sculpture and Drawings 1921-1969 by Robert Melville

The introduction to this excellent art study draws attention to the imaginative scope of the drawings and the importance of their contribution to the graphic tradition, and many more of them are reproduced in the present volume than in any previous publication. The photographs, many of them taken by the sculptor himself, show the full range of his formal inventions: experimental forms, motifs, sketches and maquettes, drawings and lithographs, as well as the monumental works, and other archetypal images, such as the Mother and Child and the Reclining Figure, to which Moore has constantly returned (employing infinite variations of treatment and scale) throughout his life. His latest works include the largest projects he has ever undertaken; they are of environmental proportions, and a remarkable group of photographs illustrates various stages of their construction. The arrangement of the plates is chronological, enabling the reader to follow, stage by stage, the development of one of the greatest creative artist of the age.
Henry Moore - הנרי מור
הפסל האנגלי הנרי מור (1898-1986) העמיד במרכז עבודתו את גוף האדם וליתר דיוק את גוף האשה ושאב את חיוניותו מן המסורות של התרבויות המרוחקות: המסכות ופסלי השבטים האפריקניים, דמויות הארד של האטרוסקים, הפרים והאריות המכונפים של עמי המזרח ובעיקר תיאורם באבן ובחומר של אלילי המאיה והאצטקים הטרום קולומביינים. על יצירתו אמר: "אמונתי היא שלמרות ההישגים הטכנולוגיים וההתקדמות הרבה של האנושות לקראת שליטה בטבע, הבסיס האמיתי של החיים צפון ביחסים האנושיים שבכוחם לעשותנו מאושרים או אומללים, ובהם תלוי הדבר אם נצליח להגשים את מאוויינו אם לאו. איני חושב שנתרחק, או שעלינו להתרחק אי פעם מאותו יסוד אשר עליו, בסופו של דבר, מושתת כל פסל - גוף האדם".

Hardcover: 368 pages, 32 color plates, 814 black and white illustrations
Publisher: Thames and Hudson, London, 1st Edition (1970)
Language: English
ISBN-10: 0500090564 / 0-500-09056-4

Price: Call
***
Henry Moore has enjoyed a privileged place as a pioneer of modem British sculpture who, together with Barbara Hepworth, reconfigured existing sculptural forms. Moore has been presented, somewhat equivocally, as both "a household name" and the avant-garde, modern British sculptor whose "originality cannot be doubted".
The diversified collection of articles and interviews in this special issue of the XXe Siecle artistic review Homage to Henry Moore edited by Gualtieri di San Lazzaro is a serious attempt to reveal some of the layers in Moore's art which on one hand is often interpreted as directly figurative with a classically derived wholeness of form, and yet equally carries an innovative avant-garde sculptural language with quite barbarous surrealists motives.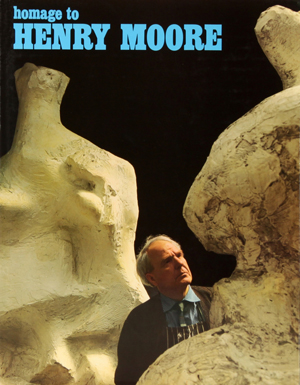 Homage to Henry Moore with Original Lithograph by XXe Siecle

The beautiful retrospective presented here includes 24 color plates and 140 black and white illustrations of Moore's sculptures and drawings - a comprehensive art monograph in luxurious album format which includes an original lithograph specially drawn by Moore for the XXe Siecle edition.
The gallery of writers gathered by San Lazzaro includes some of the best art historians and art critics of the 20th century as well as Moore's friends and companions such as Jacques Lassaigne, Roland Penrose, Pierre Volboudt, Herbert Read, Pierre Courthion, Yvon Taillandier, Giuseppe Marchiori, Giovanni Caradente, Robert Melville, Raymond Cogniat, Philip James, William J. Withrow, Geoffrey Grigson, James Johnson Sweeney, David Sylvester, Andrei Boris Nakov, Giulio Carlo Argan, John Russell and Elda Fezzi.
הפסל הנרי מור Henry Moore נחשב כאחד מחלוצי הפיסול המודרני וכמי ששם את הפיסול האנגלי על המפה של האמנות בת-זמננו. פסליו המונומנטליים מוכרים לרבים ומוצבים במרחבים הציבוריים של מוסדות חינוך, כיכרות ערים, פארקים, גנים ומבואות מוסדות פיננסים. לכאורה מקרינה יצירתו של מור שלמות פיגורטיבית אסתטית היונקת מן הקלסיקה הרומנטית האנגלית, אך בנוסף ובו זמנית, ספוגות עבודותיו של הנרי מור ברוח האוונט-גארד האירופאי המודרניסטי הלעגני ולעיתים אף אכזרי ופראי.
מבקר האמנות האיטלקי גולטיירי די סן לזרו Gualtieri di San Lazzaro שהיה גם המו"ל והעורך הראשי של מגזין האמנות הפריזאי XXe Siecle Artistic Review, הוציא לאור ב-1972 את אלבום ההומז' שלפניכם המוקדש להנרי מור ולעבודותיו. המאמרים והראיונות באלבום Homage to Henry Moore שהיה חלק מסדרת המונוגרפיות המיתולוגית XXe Siecle Hommage a נכתבו ונערכו ע"י צוות המשובח של סופרים, הסטוריונים וחוקרי אמנות שניסו לתאר את השלבים בדרכו של הנרי מור מפסל צעיר ופורץ דרך השואב השראתו מדמויות ופסילים מצריים ואשוריים עתיקים שראה במוזיאונים האתנוגרפים של לונדון ועד להפיכתו לסמל לאומי אנגלי שעבודותיו וצילומי עבודותיו מהווים חלק בלתי נפרד מהנוף העירוני של התרבות המערבית.
לאלבום, שכולל עשרות תמונות ורפרודוקציות צבעוניות מרהיבות עיניים של עבודותיו של הנרי מור, מצורפת ליתוגרפיה מקורית של מור שנעשתה במיוחד עבור הוצאת XXe Siecle. סן לזרו חותם את האלבום במאמר ביוגרפי מפרי עטו - מור והאירופאים - Moore and the Europeans - המנתח את השפעת הסוריאליסטים ואמני האוונט-גארד האירופאים ובעיקר פיקסו על דרכו של הנרי מור.
Hardcover: 136 pages; extensively illustrated with 140 b/w and 24 color plates; original lithograph specially made by Henry Moore for XXe Siecle
Publisher: XXe Siecle, Cahiers d'art, G. di San Lazzaro, Paris & Tudor Publishing Co. New York, First edition (1972)
Language: English, translated by Wade Stevenson.
ISBN: 0302025316 / 0-302-02531-6 / 978-0302025314.
Price: Call
References:
Henry Moore in XXe Siecle Nouvelle Serie - PANORAMA
Modern English Sculpture by A.M. Hammacher
Marino Marini: Sculpture Painting Drawing by A.M. Hammacher
Form and Space: Sculpture of the twentieth century by Eduard Trier
The Evolution of Modern Sculpture by A.M. Hammacher
The New Sculpture: Environments and assemblages by Udo Kultermann
Item: B1029 - Henry Moore Art Books
© Dan Levy - Art Pane Home of Art Books
---