< Back to Art Books
< Previous Next >
---
***
Few groups of artists and writers have been the object of so much myth-making as the Bloomsbury Group which flourished in London during the first thirty years of the former century. The Bloomsbury Group has not only been profoundly influential and productive in every sphere of British artistic life, but its members have become objects of curiosity and veneration, even of disgust, and fascinated the whole of the English-speaking world.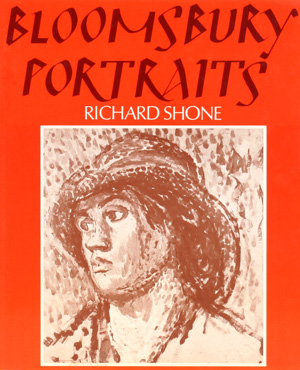 Bloomsbury Portraits - Vanessa Bell, Duncan Grant and their circle by Richard Shone - PHAIDON

Front cover of Bloomsbury Portraits - the illustration on the jacket is from Duncan Grant's Vanessa Bell in a Sun Hat, 1912
The book presented here describes in particular the artists, Duncan Grant and Vanessa Bell (1879-1961), who were at the center of the group, and played a leading part in the interplay of personal and intellectual life which characterized it, and whose works have recently been the subject of much interest.
The author Richard Shone shows how in addition to the Bloomsbury's writers, Virginia Woolf, John Maynard Keynes, E. M. Forster and Lytton Strachey, its painters were of considerable importance, and played a central role in the development of painting in Britain in the twentieth century. Their work, sometimes neglected but always of interest to a few, is among the most lively and original produced in England. In this beautiful book the Bloomsbury painters come alive among their friends, admirers and sitters. Their works are illustrated by a large number of reproductions in color and black and white. These illustrations, which include portraits of the people involved and the houses in which they lived and worked, constitute a unique visual record.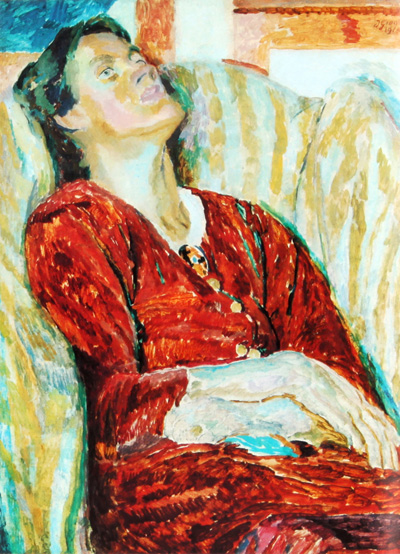 Portrait of Vanessa Bell in an Armchair by Duncan Grant

Bloomsbury Portraits - At Eleanor: Vanessa Bell, 1915 by Duncan Grant - Plate IV
קבוצת בלומסברי Bloomsbury Group שפעלה בלונדון ב-30 השנים הראשונות של המאה העשרים, השפיעה באופן עמוק ומקיף על כל תחומי האמנות, התרבות וחיי החברה באנגליה. חברי הקבוצה, סופרים, ציירים, מבקרי אמנות ואינטלקטואלים מובילים היו מושא להתעניינות, הערצה ובמקרים מסוימים אף לרגשות שאט-נפש וביקורת שריתקו את עולם דוברי האנגלית משני צידי האוקיאנוס.

Vanessa Bell and Duncan Grant - דאנקן גרנט, ואנסה בל
הספר שלפניכם מתרכז בתיאור עבודותיהם פורצות הדרך של הציירים ואנסה בל Vanessa Bell ודאנקן גראנט Duncan Grant שהותירו חותם חשוב על התפתחותו של הציור האנגלי במאה העשרים. הציורים מלאי החיות שבקעו מן הרקע עתיר התרבות של האצולה האינטלקטואלית של אנגליה בין שתי המלחמות, מציגים את הדמויות המובילות בחבורה, את המקומות בהם חיו ויצרו ובעיקר משקפים את תפיסת העולם האוונגארדית המיוחדת שאותה הנחילו לאמנות המודרנית בת זמננו.
The picture which emerges of the rich cultural and social life of the Bloomsbury Group members, their links with Pablo Picasso, Andree Derain and Walter Sickert, their wide sympathies and immensely serious attitude to painting, is in a strong contrast to the habitual view of them as unadventurous and provincial. Bloomsbury Portraits is a notable contribution not only to the history of the Bloomsbury Group itself but also to the modern movement in English Art.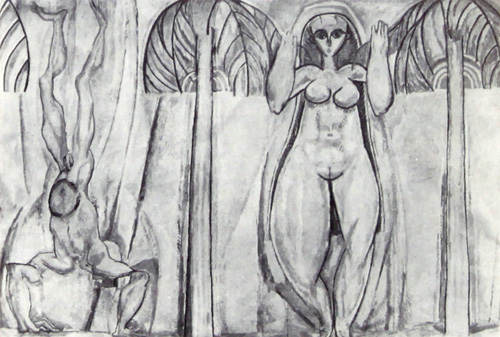 Bloomsbury Portraits - Adam and Eve by Duncan Grant

Bloomsbury Portraits - Vanessa Bell, Duncan Grant and their circle - Adam and Eve by Duncan Grant, 1913
The painting Adam and Eve by Duncan Grant was severely damaged by floods at the Tate Gallery in 1928. Both Picasso and Matisse had a direct influence on the work and the decorative treatment of the trees relates it closely to the Omega Style developed in the Omega Workshops founded by Roger Fry, Duncan Grant and Vanessa Bell in 1913. Grant's characteristic fantasy is revealed in the figure of Adam.
"I have been busy lately with a large picture which I brought to birth with great labour and pain and I see is likely to be a thankless offspring." So Duncan wrote to Lytton Strachey on 6 January 1914 about his Adam and Eve which by then was already hanging in the Alpine Club Gallery as part of the Second Grafton Group Exhibition. Adam and Eve (plate 79) was one of Duncan's most ambitious paintings to date and with its jocularity and distortion put much of the surrounding work in the shade. It attracted a great deal of attention, especially as it was a commission, through Clive Bell, from the Contemporary Art Society. The picture roused Randall Davies of the New Statesman to some facetious comment: Mr. Duncan Grant has hit upon a most ingenious device for baffling the malignant stupidity of 'hanging committees', who have been known to disguise their spite against a picture that strikes them as eccentric under a veil of seeming innocence, and to hang it upside down...
Hardcover: 272 pages, 170 illustrations 8 in full color
Publisher: Phaidon Press, London; First Edition (1976)
Language: English.

ISBN-10: 0714816280 / 0-7148-1628-0
Price: Call
Item: B1052 - Bloomsbury Portraits - Vanessa Bell, Duncan Grant and their circle
© Dan Levy - Art Pane Home of Art Books
---